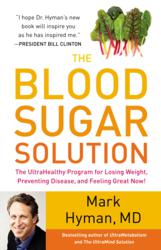 (PRWEB) March 09, 2012
In The Blood Sugar Solution (on-sale from Little, Brown and Company February 28, 2012) Dr. Mark Hyman Chairman of the Institute for Functional Medicine and founder and medical director of The UltraWellness Center reveals the secret to losing weight and preventing diabesity. According to Dr. Hyman, a staggering one in two Americans suffers from diabesity, the condition of metabolic imbalance and disease that ranges from mild blood sugar imbalance to full-blown diabetes. Diabesity is one of the leading causes of chronic disease in the 21st century, including heart disease, stroke, dementia, and cancer, and the numbers of sick people keep growing. One in three children born today will have diabetes. We are now raising the first generation of Americans to live sicker and die younger than their parents.
Dr. Hyman stresses that insulin resistance is the real biological cause of the obesity, pre-diabetes, and diabetes epidemic that impacts more than 100 million Americans and over one billion people worldwide and which is a huge economic burden costing us over $ 2 trillion a year in health care costs, according to a 2009 piece published in Diabetes Care. Currently, there are no national screening recommendations, no treatment guidelines, no approved medications, and no reimbursement to health care providers for diagnosing and treating anything other than full-blown diabetes. Doctors are not expected, trained, or paid to diagnose and treat the single biggest chronic disease in America.
In The Blood Sugar Solution, Dr. Hyman tackles this worldwide health care crisis. He provides a revolutionary six-week healthy-living program that will help all individuals, whether or not they are obese or diabetic, to enable their bodies to function at maximum level. With advice on diet, green living, supplements and medication, exercise, and personalizing the plan for optimal results, he teaches readers how to maintain lifelong health. Dr. Hyman describes and explains his seven keys to treating diabesity and achieving peak wellness: