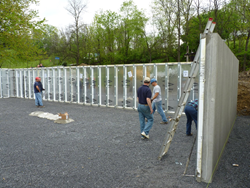 New Holland, PA (PRWEB) September 29, 2014
During October's annual national Energy Awareness Month, experts at Superior Walls® recommend focusing on the basement of the home to lay the groundwork for years of savings on energy bills.
"For builders and consumers starting the new home construction process, one of the most important decisions they can make is what type of foundation to have for a home," says Jim Costello, president of Superior Walls. "Building an energy efficient structure starts with the foundation. Choosing a precast Xi™ or Xi Plus™ concrete foundation provides 'bottom up' energy savings that can have long-term financial benefits for a homeowner."
Precast concrete panels by Superior Walls are steel-reinforced and created in the manufacturing process with DOW® Styrofoam™ boards, which provide excellent rigid foam insulation. The resulting wall panels provide a dry, warm, damp-resistant and exceptionally energy-efficient foundation for a home.
"Having a dampproof basement does more than just help homeowners save on energy bills, it provides added living space in a home," says Costello. "People with Superior Walls foundations use their comfortable, finished basement space for home offices, family rooms, hobby activities and exercise areas in the home."
Superior Walls insulated precast concrete wall systems have earned the Green Approved Product designation by the National Association of Home Builders (NAHB) Research Center.
For homeowners and facility operators, the benefits of Superior Walls foundations systems are substantial. The energy-efficient walls help lower energy costs and reduce energy leakage while providing increased living and storage space in a comfortable setting. Builders also benefit from saved job site time and labor when certified Superior Walls installation crews set the walls in place in less than one day, so that construction can immediately begin the following day.
Each Superior Walls panel is custom made to the specifications of an individual home, including built-in openings for windows and doors. Pre-engineered access for wiring or small plumbing elements along with smart stud facing for easy drywall installation are included and help speed up the installation process.
For more information visit http://www.superiorwalls.com.
###