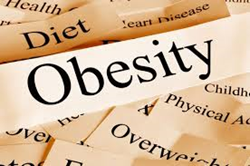 Bethesda, MD (PRWEB) February 18, 2015
A new study published in the journal Nature found that genetics plays a bigger role in the development of obesity than was previously thought. Researchers from the University of Michigan unveiled the results of a genome-wide association study looking at body mass index (BMI), a common measure of obesity, in close to 400,000 individuals (Nature, 518:197-206;February 11, 2015).
This new research finds that as much as 21% of BMI variation can be accounted for by genetics. There are about 100 locations across the genome that plays roles in various obesity traits, double than what was previously thought.
"This research may help determine who is at risk of developing diseases associated with obesity and may lend insight into future treatment," says Elaine Trujillo, nutritionist and author of The Calories In Calories Out Cookbook. "We have known that one size does not fit all when it comes to weight gain, development of risk factors and even obesity treatment. Now we have more research to support that notion," Trujillo adds.
According to Caroline Apovian, Professor of Medicine and Pediatrics and the Director of the Nutrition and Weight Management Center, Boston Medical Center, Boston University, "For those of us treating obesity, this is exciting news because particular genes and pathways affecting BMI have been implicated that respond to changes in eating behavior. Once we can figure out which of these genes are implicated in each patient, we can tailor the treatment of their obesity based on their particular genetic profile. For example, one of the pathways implicated in this paper is one that is the proposed mechanism of action of the combination of drugs recently approved by the US Food and Drug Administration for treatment of obesity – topiramate/phentermine. Based on genetic profiles, we may be able to predict which patients will be successful at weight loss with this particular drug combination (topiramate/phentermine) as opposed to another treatment if they have this pathway variation. Also, we may be able to predict who will do well with bariatric surgery in the future."
In a companion paper on waist-to-hip circumference ratios, 49 sites in the genome were identified (Nature 518:187-186; February 12, 2015). The waist-to-hip ratio and waist circumference alone are used to determine fat distribution and abdominal fatness and is a marker for developing diseases associated with obesity. Men who have waist circumferences greater than 40 inches and women who have waist circumferences greater than 35 inches are at higher risk of diabetes, dyslipidemia, hypertension, and cardio-vascular disease.
Much more research is needed to determine how the genetic variations in individuals lead to weight gain in some and not in others. Some of the genes involved in obesity may be related to other diseases, this research is a step in uncovering the biological basis to a whole host of metabolic diseases. Although genetic background may be a useful tool in the future for developing personalized diets for weight loss and health, those who are already living in calorie balance and engaging in regular physical activity will have the basis for a foundation for healthy living.
CATHERINE JONES is the award-winning author or coauthor of numerous cookbooks including The Calories In, Calories Out Cookbook, Eating for Pregnancy, and Eating for Lower Cholesterol. She is the co-founder of the nonprofit Share Your Calories, an app developer, blogger, and a freelance journalist. ELAINE TRUJILLO, MS, RDN, is a nutritionist who has years of experience promoting nutrition and health and has written numerous scientific journal articles, chapters and textbooks.
More Weight Loss Program Press Releases