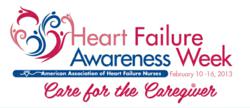 Mount Laurel, NJ (PRWEB) February 05, 2013
The American Association of Heart Failure Nurses (AAHFN) is pleased to promote Heart Failure Awareness Week, to be held February 10-16. In 2013, AAHFN is dedicating Heart Failure Awareness Week (HFAW) to caregivers, heightening the awareness of the impact heart failure has on the caregiver.
Nearly one third of American homes have a caregiver providing daily assistance to someone with heart failure. A recent survey done by AAHFN, an association dedicated to advancing nursing education, clinical practice and research, indicates that the majority of caregivers are spouses caring for significant others. The association estimates that five million Americans have heart failure, all of which require a caregiver.
Being a caregiver can be very rewarding but it can also lead to physical, emotional and money sacrifices, commonly known as caregiver burden, said HFAW Task Force Leader Robin Trupp PhD, ARNP-BC, CHFN, FAHA. Caring for a loved one with heart failure places extra demands on the caregiver, such as complex medicine schedules, the need for frequent office visits, changes in diet and limited physical activity due to fatigue or shortness of breath.
The caregivers emotional health is affected more than any other area of their life including mental and physical. Caregivers have reported feelings of anxiety, sadness, anger, worry and loneliness. However, caregivers may hide or minimize these feelings in order to protect their loved one and can ultimately become ill themselves. Caregivers have higher rates of sleep problems and depression, are at risk of serious illness, and are less likely to engage in preventive health measures.
The following symptoms can occur among caregivers and should be addressed immediately by a healthcare professional if present:


Depression
Sudden weight loss/gain
Extreme exhaustion
Drug or alcohol dependence
Caregivers often neglect their own health while meeting the needs of their sick loved one. However, the caregivers well being is essential in helping the health of the heart failure patient because they assist with activities of basic daily living, such as bathing, managing bills, shopping and cooking. Administering medication ranks high on the priority list of needs that caregivers fulfill.
To highlight the importance of caregiver health and the role they play, AAHFN is launching a series of awareness initiatives to remind caregivers that their needs are also important. Heart Failure Awareness Week kicks off the year-long awareness initiative by providing tip sheets and resources for the caregiver. Health professionals can download a greeting card made especially for caregivers of patients with heart failure, recognizing them for all that they do.
AAHFN offers the following tips for caregivers, to help manage stress and maintain personal well being:
Consider respite care- There are local agencies that can help you find caregiver services in your area, even if used for only a few hours
Maintain a healthy and regular diet
Exercise regularly-Caregivers can go for a walk with their patient with the use of a wheelchair
Assure adequate rest
Avoid smoking and use of tobacco products
*Drink caffeine and alcohol in moderation never use alcohol or drugs to reduce stress
Continue to take care of your own chronic or acute medical issues
Ask for help and take it when it is offered
Sponsors of AAHFNs Heart Failure Awareness Week include:
Arbor