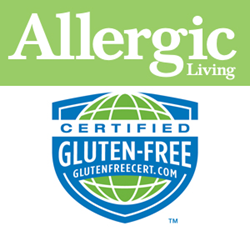 Toronto, ON (PRWEB) March 04, 2015
The Allergen Control Group, a recognized authority in gluten control management systems and owners of the Gluten-Free Certification Program (GFCP), is pleased to announce a new Strategic Alliance with Allergic Living magazine. All issues of the magazine from this point forward will contain display advertising for the GFCP, helping to build widespread brand recognition, as the leading North American gluten-free certification program.
Peter Wilmshurst, Allergic Living Publisher says that "we view the GFCP as the leading certification of its kind in North America. The National Foundation for Celiac Awareness (NFCA) in the U.S. and the Canadian Celiac Association (CCA) in Canada are recognized gluten-free leaders. These organizations already have strategic partner relationships with both the GFCP and Allergic Living magazine. It is with great enthusiasm that Allergic Living plans to throw our full support behind this highly respected certification program and encourage companies to take advantage of this powerful certification to further their brand awareness with the consumer."
This alliance with Allergic Living will also include consumer outreach using http://www.allergicliving.com, a leading allergy and gluten-free website, to expand awareness and recognition of the certification program. Digital advertising of the certification program is scheduled to begin April 2015.
The Gluten-Free Certification Program (GFCP) trademark on food packages indicates that a manufacturer has participated in a voluntary food safety certification program designed to ensure consumers are purchasing safe, reliable gluten-free products. The GFCP trademark is based on stringent food safety and gluten management programs and is further verified by a robust 3rd party audit process at the manufacturing facility. The endorsements from North Americas' leading celiac organizations only help build added consumer trust with those brands identified in the program.
Paul Valder, President of the Allergen Control Group, says he is "very excited about our new Alliance with Allergic Living's U.S. and Canadian magazines that professionally address the important issues around gluten-free claims. The Allergic Living program will ensure consumers recognize the uniqueness and value of the GFCP and its associated brand customers. The brands which carry our certification will now have another value-added opportunity to reach a targeted audience, who respect and understand the benefits of the GFCP trademark, displayed on their gluten-free retail products."
About Allergic Living

Allergic Living's magazine publishes quarterly throughout North America. The magazine and website reach approximately eight million consumers annually. http://www.allergicliving.com
About the Allergen Control Group Inc. (ACG)

The Allergen Control Group Inc. is a privately held corporation which owns and operates the Gluten-Free Certification Program on a global basis and is endorsed exclusively by the CCA in Canada and the NFCA in the USA. http://www.glutenfreecert.com
About the National Foundation for Celiac Awareness (NFCA))

The National Foundation for Celiac Awareness (NFCA) is a US-based 501(c)(3) non-profit organization that drives diagnoses of celiac disease and other gluten-related disorders and improves the quality of life for those on a lifelong gluten-free diet. For more information, visit http://www.CeliacCentral.org.
About the Canadian Celiac Association (CCA)

The Canadian Celiac Association is the national voice for people who are adversely affected by gluten, and is dedicated to improving diagnosis and quality of life. Based in Mississauga, Ontario with 28 Chapters across the country, its mission includes advocacy, education, research and community support. http://www.celiac.ca
Find More Diet Plan Press Releases