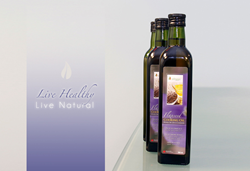 Boca Raton, FL (PRWEB) December 22, 2014
Your holiday feast can now have a healthy twist thanks to Alligga Flaxseed Cooking Oil. The Canadian product, now available in America, is the latest flaxseed offering from BG Health Group.
Alligga Flaxseed cooking oil gives people a new and easy method of getting Omega-3 fatty acids into their diets. Alligga Flaxseed cooking oil ends the frustration, of the past in not being able to cook with flaxseed oil due to its low smoke point. After years of research, the impossible is not only possible, but extremely healthy.
"It's all natural, totally unrefined," said Adam Maas, Director of Sales and Development for BG Health Group. "Our filtering process removes all of the impurities out of the oil, leaving the goodness inside, which allows the smoke point to rise to 485 degrees, while maintaining a 60% Omega-3 content."
To help consumers enjoy the full potential of Alligga Flaxseed Cooking Oil, the company has hired Alana Peckham as its corporate chef. Peckham, who is widely recognized as one of British Columbia's premier chefs, has developed nearly 50 recipes that feature the oil. The growing list includes breakfast, entrees, sauces and dips, as well as baked goods. Vegan and gluten free preparations are also outlined.
"Chef Peckham continues to find new and exciting ways to prepare extraordinary food with our Flaxseed Oil," said Maas. "Not only are you able to enjoy some delicious meals but you also experience the many health benefits of Omega-3s."
Alligga's flaxseed comes from the company's Saskatchewan, Canada farm. It is certified Kosher, GMO free, certified organic options, and there are no chemicals added. The oil, which can be used in hot and cold preparations, can also add a healthy twist to salad dressings and juicing.
"We want people to live as natural as possible and help to them make educated choices," said Maas. "Live healthy and live naturally is our company motto. We're proud to offer the first of its kind cooking oil in North America.
To learn more about the Alligga Flaxseed Cooking Oil, cooking recipes, as well as the brand's other flaxseed products visit: http://www.bghealthgroup.com/products/alligga.
To purchase Alligga products, please visit: http://www.ronniecolemannutrition.com/alligga-Organic-Flaxseed-Cooking-Oil?manufacturer_id=198