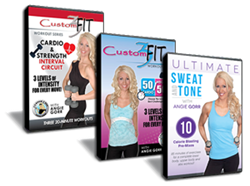 Plainfield, IL (PRWEB) July 08, 2014
Remember the book Green Eggs and Ham by Dr. Suess? Many adults have the wrong image of exercise videos and are refusing to try them. Instead, they end up pouring hundreds of dollars into gym memberships they don't use. The non-believers that have given them a try are shocked by how great of a workout they get, and most of all, how much fun they have doing it. Personal Trainers around the world are teaching Interval, Circuit, and HIIT workouts because they are proven methods of burning fat and torching calories. Personal Trainers can cost anywhere from $ 30-$ 100 per hour. With the workout videos on the market today, you can get the SAME workout without leaving your home, and for a fraction of the cost.
Angie Gorr is a certified fitness instructor who just launched her HRIT (High Rep Interval Training) system. Similar to HIIT, which is (High Intensity Interval Training), the HRIT system includes three workout DVDs, a quick start nutrition guide, and a 30 day workout program (one for each level; beginner, intermediate and advanced). Her HRIT workout format increases muscle endurance, and boosts the metabolism in order to burn more fat after the workout is over. These workout DVDs are great for all levels of fitness (beginner, intermediate and advanced). Interval training, which means alternating between higher and lower periods of exertion, is a proven method of boosting the metabolism, and shredding fat faster than doing steady state cardio (such as running). Angie uses the high-rep technique during the recovery period. The idea is to burn a ton of calories doing cardio, and use high repetitions and low weights during the 'resting' period which is called active recovery. It is called active recovery since the heart rate is still elevated during the recovery period, while also toning and achieving muscle failure (which is the key ingredient to burning fat and keeping the muscle!). High reps alone will not burn a lot of calories, but performing them between higher intensity exercises, will fatigue the muscles while also enabling the cardio vascular system to prepare for the next bout of high exertion. Click here to learn more.
Many people complain about workout DVDs getting repetitive. Angie's 3-DVD set has so many workout options, it is like doing a new DVD each time! There is the incredible amount of variety such as being able to choose a customized intensity level and duration of the workout. Each DVD comes with a navigation menu, giving the ability to select from short or long workouts, or one chapter at a time. The entire DVD set includes over 40 mix and match exercise segments, 205 minutes of total body exercises, and 15 complete workouts. Two of the DVDs include three levels of intensity for every move (beginner, intermediate and advanced) demonstrated simultaneously. The 3rd DVD (Ultimate Sweat and Tone) has five long and five short premixes which enables the workout choices to focus either on specific muscle groups or a total body workout.
While the average cost of one workout DVD is $ 16.99, Angie's complete HRIT system including three workout DVDs, a nutrition guide and a 30 day workout program is selling for $ 29.99. If you want to try before you buy, you can find the DVDs on online at Amazon Instant Video, and also try out a wide variety of other exercise videos for less than $ 3.00. When choosing a workout video, make sure the instructor is a certified fitness instructor, which should be included somewhere in the product description. Look for a DVD that requires little equipment. The equipment needed for the HRIT system includes: light weights (2,5 and 8 lbs), an exercise mat, and an optional workout step for added intensity. All DVDs show modifications without using a step.
Leave the leg warmers and tights in the 80's Halloween bucket, but definitely bring out the water bottle and a towel. There is no need to worry about leaving the house or buying fancy workout clothes. If willpower is lacking, get a buddy and invite them over to workout. Instead of book club, start a DVD club where there is the ability to try out a variety of workout DVDs, and instructors. Working out can be fun, and Angie Gorr just put the fun back into home workout videos. To learn more details about Angie Gorr's DVDs and HRIT System, click Here.
Related Exercise Press Releases