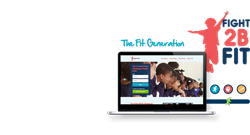 New York City, NY (PRWEB) October 22, 2014
New York Web Design company, Avatar New York, announced the launch of the new Fight2BFit website, an online platform that promotes healthy lifestyle habits in schools.
Avatar New York designed and developed the first Fight2BFit website in 2012 and after a successful introduction to schools nationwide, Fight2BFit and Avatar worked together to bring a gamification aspect to the platform in preparation for a relaunch in the fall of 2014.
In addition to adding a public facing marketing interface for the website, Avatar New York and Fight2BFit collaborated on implementing game design techniques such as participation status and achievements. New gamified features include:


Awards and Trophies to bolster motivation and foster engagement
Personalized Trophy Room
Incentives such as a Hall of Fame, Perfect Score Spotlight and Platinum Club
Personalized Dashboard showing latest awards, level achievement, and exercise challenges
A "Follow Me" feature that allows kids to add their friends and follow each other's progress
The new Fight2Bfit website launched as schools opened in the fall, so school kids could start winning, while learning about healthy eating, exercise, and team work.
The launch of the new Fight2BFit website follows Avatar New York's recent high profile educational website launches of Channel One News, the Peabody and Telly award-winning news program and digital content provider for students, MusicFirst US / Global, the world's first completely online music education platform, and Princeton University's Chemistry Department website.
About Avatar New York

Avatar New York is a forward-thinking and technologically progressive interactive digital agency delivering robust and durable e-business solutions. Our approach is business focused, meaning we custom tailor each digital solution to match a business' current and future goals and requirements. We have almost a decade of experience helping organizations leverage design and technology to produce unique, powerful, feature-rich online experiences.