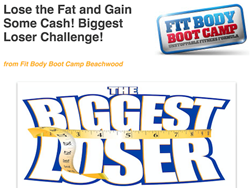 Beachwood, OH (PRWEB) November 05, 2014
Beachwood Fit Body Boot Camp is known for their intense, fat-burning fitness boot camp workouts and has garnered a loyal following in the community for their fast results, affordable prices and tight-knit community among members. Now they're inviting the rest of the community to find out why they're so popular and shed some fat and inches before the holidays.
Beachwood Fit Body Boot Camp is holding their latest 6-week fitness challenge, the Biggest Loser Challenge, at their location at 23645 Mercantile Road, Suite E, in Beachwood. Their 6-week transformation challenges are locally famous for getting incredible results in an incredibly short time.
"The Biggest Loser Challenge is a great way for people to really kick start their weight loss goals," says owner Lisa Schulze. "It includes unlimited workouts, nutrition counselling and a weight loss plan, fitness testing and a lot of great support that can make the difference between reaching your goals and falling short."
The fitness boot camp workouts are a specially-designed combination of fat burning and muscle toning exercises that help clients get results very quickly by boosting their metabolism and triggering the afterburn effect.
"The afterburn effect is a result of taxing your body to the point that it continues to burn more calories throughout the day, for as long as forty-eight hours," says Schulze. "If you're doing a thirty-minute workout every day or even every other day, that afterburn effect never shuts off. That's why our workouts are known as such awesome fat burners."
Participants in the Biggest Loser Challenge won't just win the war against fat; they may also win cash prizes. The half of each entry fee for the challenge goes into a winnings pot and will be divided among the "biggest losers" in the challenge, which might go a long way toward that necessary new wardrobe.
Participants must attend a mandatory orientation and weigh-in on Saturday, November 15th at 8:00 am in order to take part. The registration fee for the challenge is just $ 97 and everyone will need to attend the final weigh-in on Saturday, December 27th at 8:00 am. Space is limited to only 20 participants, so the fitness boot camp urges everyone to sign up quickly by going to http://conta.cc/1tNEMVW.
About Beachwood Fit Body Boot Camp
Beachwood Fit Body Boot Camp is part of the Fit Body Boot Camp family of indoor fitness boot camps, whose global goal is to engage 20% of the world's population in a healthy and fit lifestyle by the year 2020. Beachwood Fit Body Boot Camp is owned and operated by Lisa Schulze. Schulze is committed to helping members of the Beachwood community set and accomplish their own health and fitness goals.
For more information about Beachwood Fit Body Boot Camp, please call (216) 333-9490, visit the website at http://www.fitbodybootcamp.com/beachwoodfitnessbootcamp/ or their Facebook page at https://www.facebook.com/fitbodyBeachwood
Related Fitness Exercise Press Releases