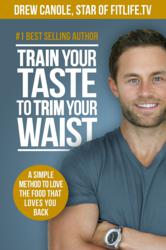 San Diego, CA (PRWEB) November 21, 2012
The number one frustration dieters face is that most unhealthy foods taste delicious. And people are programmed to crave delicious foods, regardless of the effects on our waistline. In a sense, ones taste buds are traitors to any weight loss goals, asserts bestselling author, celebrity transformation and nutrition specialist, Drew Canole of Fitlife.tv.
But, if you can train your taste, Canole says, you can trim your waist. Its the first step that most people miss, but it makes everything easier when youre drawn to healthy food more so than junk food.
Now, in his new bestselling book, [Train Your Taste To Trim Your Waist: A Simple Method To Love The Food That Loves You Back, Canole gives the exact strategy that he uses to train his transformation coaching clients, some of which include celebrities and successful entrepreneurs.
As a followup to his top-rated juicing recipes book on Amazon, Train Your Taste To Trim Your Waist is already receiving rave reviews like this one from Valerie Ditta:
"From someone that has read hundreds if not thousands of diet books over the years, I found this approach to be unique. Most diet books give reasons to eat healthy, ideas on how to eat healthy But this is the first I've read that offered guidance on how to PREFER eating healthy."
Readers will also discover:


A simple, 21-day method to lose weight by learning how to finally enjoy, and even crave, healthier food. It never feels like youre on a diet, so you never fall off of it, Canole states.

How a groundbreaking scientific study proves that ones desire for unhealthy foods is outside of our control and why it is sometimes so hard to eat healthy foods.

Seven simple steps to train ones taste to actually seek out healthy food and a Canoles strategic-deferral-method of crave-curbing that he states makes his program work even for those who have tried every method in the past.
As a remedy to overeating this Thanksgiving holiday and in honor of Black Friday, Drew Canole and Jay Kordich (The Father of Juicing), have inserted a surprise $ 100 coupon inside page 49 of the book, [Train Your Taste To Trim Your Waist, redeemable for a brand new Jay Kordich PowerGrind Pro Juicer.
The $ 100 coupon is redeemable until November 30, 2012 and is transferable, so it can be given away or used as a gift this shopping season. Readers who do not own an Amazon Kindle can still download a copy of the book and read it for on their internet browser, tablet or smartphone using the free Kindle Cloud Reader app.
[Train Your Taste To Trim Your Waist is available here on Amazon.
Or by visiting the following link: http://trainyourtaste.com/get100
For media inquiries, to arrange for an interview or an expert quote on natural weight loss, juicing, transformation or fitness, especially during these holiday-challenged times. Please contact Rebecca Bamberger at (619) 917-5109