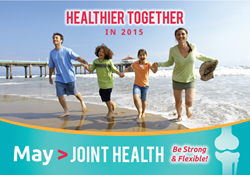 Gilbert, Arizona (PRWEB) May 01, 2015
Body & Brain announces "Healthier Together," a new workshop series designed to help participants discover the secret to turn on their natural healing ability and improve their overall health. Offered in corporate and franchise centers across the country, each free event will address a specific area of concern that is a common health problem in the U.S. The topic for May is "Joint Health: Be Strong and Flexible."
The "Healthier Together" campaign integrates the idea of togetherness, as it extends from body and brain within the individual to community, people, and ultimately the Earth. Through togetherness, healthier living becomes easier and more sustainable for all.
Based on the holistic system known as Brain Education, the monthly Body & Brain workshop topics include Joint Health, Back Health, Mindful Eating, Immune Health and more. According to Linda Yoonjin, PR & Marketing Manager for Body & Brain, "the "Healthier Together" workshop series teaches key principles and simple, yet powerful tools to maximize the body's natural healing capacity and develop a healthier lifestyle." All exercises and techniques are easy to apply to everyday life so that anyone can benefit from them and share with others to help them as well.
"Healthier Together" Workshops are free, and non-members are welcome. For more information, please contact a local Body & Brain center for workshop and open house dates.
About Body & Brain (formerly Dahn Yoga): Body & Brain Yoga & Health Centers, Inc is a national leader in health and wellness. This dynamic mind-body practice originated in Korea, and classes combine stretching, flowing movement, deep breathing exercises and meditation in a simple and easy to learn format which includes a unique emphasis on the brain as the determiner of health and wellbeing.
Find More Exercise Press Releases