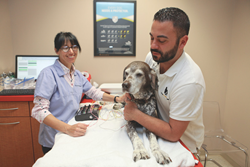 Boston, Massachusetts (PRWEB) October 09, 2014
Boston Veterinary Clinic, the new Boston veterinary clinic located in Bay Village, and Dr. Brian J. Bourquin announce the opening of The Integrative Veterinary Center, to be led by Dr. Kate Steinhacker, an expert in integrative veterinary medicine.
Grace, an active, 14 year old German Shorthaired Pointer, wanted to play fetch-the-tennis ball and chase birds as she swims, but she started seeing her veterinarian more frequently as her right hind leg started to drag after long walks. Podo, a gentle Persian cat, enjoyed playing with her many toys when, at age 12, her health declined as she battled the onset of inflammatory bowel disease. And Jack, the Jack Russell, loved to chase his two siblings around a big yard until recurring ear infections and red rashes drained his energy.
What do they all have in common? They all have been treated as patients of Dr. Kate Steinhacker, an expert in Integrative Veterinary Medicine, where the combination Eastern and Western therapies have produced remarkable results. As the name implies, Integrative Veterinary Medicine is a multidisciplinary approach to restoring health, preventing disease, and improving quality of life. While the treatment plans are tailored to each patient, Integrative Veterinary Medicine includes Western medical therapies plus acupuncture, Chinese herbs, Chinese nutritional therapy and TuiNa ("Twee-nah") massage. Integrative veterinary medicine has been used to effectively treat a wide variety of conditions, such as, arthritis, seizures, kidney disease, GI problems, skin disease, thyroid disorders and allergies.
Dr. Kate is a Doctor of Veterinary Medicine (DVM) and has been practicing integrative veterinary medicine for over 10 years. She is the only veterinarian in Massachusetts certified in all four branches of traditional Chinese veterinary medicine. Patients of The Integrative Veterinary Center will experience a longer first visit, due to a detailed physical examination and full Western and Eastern assessments of the patient's condition. "Western medicine, Chinese herbs, nutrition, acupuncture and massage are used in concert to restore balance. We use herbal formulas that are manufactured using GMP (Good Manufacturing Processes) in accordance with FDA standards," says Dr. Kate.
In forming The Integrative Veterinary Center at Boston Veterinary Clinic, Dr. Bourquin considered the vital role acupuncture played in the life of his own beloved chocolate Lab, Sassy.
"There isn't a question in my mind that Sassy's quality of life was significantly improved by her bi-monthly acupuncture sessions. There was an ease of motion and increased energy after her sessions that was undeniable," says Dr. Bourquin. " Our role as a leading veterinary clinic in Boston is to protect our patients by being open to therapies that produce positive, long-lasting results."
Grace, Podo, Jack and their guardians can all attest to the results. Grace's bi-monthly acupuncture treatments have restored mobility to her hips and legs. A combination of acupuncture, Chinese herbal compounds and a raw diet calmed Podo's symptoms as she celebrates her 16th birthday. And the persistent ear and skin problems Jack endured were alleviated with the supportive regimen of acupuncture and herbal supplements.
About Boston Veterinary Clinic
Boston Veterinary Clinic is located at 363 Tremont Street in Boston's historic Bay Village. The state-of-the-art clinic offers comprehensive medical, dental, diagnostic and surgical services for dogs and cats in the Greater Boston area. Free parking is available for patrons visiting the clinic. In addition, Boston Veterinary Clinic offer in-home veterinary care, by appointment. To make an appointment, in-clinic or in-home, or to get more information, visit our website at bostonveterinary.com or call (857) 362-8672.