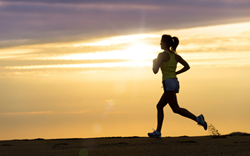 Knoxville, TN (PRWEB) May 15, 2014
The connection between mind and body is undoubtedly strong. Physical activity has been shown to provide an abundance of mental health benefits. Brookhaven Retreat encourages women to participate in its various exercise programs that facilitate recovery from mental health and substance abuse issues.
Aerobic exercise improves blood circulation to the brain, which results in decreased immediate stress, and alleviates long-term depression. Just 30 minutes of exercise releases mood-enhancing endorphins. And it doesn't just reduce depression; according to a study published in the American Psychological Association's "Monitor on Psychology," exercise reduces the frequency and intensity of anxiety in those more sensitive to anxiety-inducing situations.
Mental health illnesses such as bipolar disorder benefit greatly from structured activity to help manage daily life. Brookhaven Retreat encourages group activities such as volleyball and badminton, to help women develop leadership skills, trust and self-confidence. Adding diversity to a fitness routine helps prevent boredom. Dancing, gardening and walking are all part of a holistic approach to healing from mental health issues.
This May, Brookhaven Retreat introduced a new morning fitness class. This class focuses on outdoor aerobic exercise to improve cognitive skills, energy, mood and relaxation. Exercising in the morning provides added benefits including a metabolism boost, healthy sleep hygiene, fewer scheduling conflicts and a better diet throughout the day.
Negative symptoms of many mental health illnesses can often be reduced through physical fitness. Brookhaven Retreat believes the mind and body connection is undeniable, and incorporates physical wellness as an integral part of healing from mental illness.
About Brookhaven Retreat

Brookhaven Retreat is a women's treatment center nestled on a naturally beautiful 48-acre site secluded in the foothills of the Great Smoky Mountains. It has helped hundreds of women across the United States overcome depression, trauma, anxiety, substance use and a range of other behavioral health challenges. Brookhaven's Founder, Jacqueline Dawes, has predicated its gender-specific treatment on "healing emotional breakage" for women. In this way, she has established a sanctuary and a place where women can feel safe, secure and cared for by a staff of highly trained professionals.