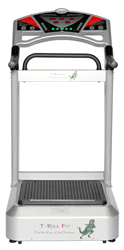 Sacramento, California (PRWEB) February 19, 2015
California T-Rex Fit is pleased to announce the launch of a new business that offers whole body vibration machines that enable individuals to improve their fitness level more quickly and efficiently than with traditional exercises alone.
California T-Rex Fit's whole body vibration systems integrate some of the highest technological advancements and research available, according to Team Leader Lisa Welge. "We design California T-Rex Fit machines with the highest specifications and excellence, and that makes us one of the best providers of whole body vibration machines on the market," Welge said.
The company's California T-Rex Fit vibration machines employ cutting-edge technology that allows users to obtain the benefit of one hour of traditional exercise in just 10 minutes. As a result, they can experience weight loss, burn fat, improve flexibility, enhance blood flow, reduce muscle soreness after exercise, build strength and decrease the stress in as little as 10 minutes a day.
Whole body vibration involves the pulsation of any frequency being transmitted to the human body. Essentially, the user stands, sits or lies down on the platform of the whole body vibration machine, which transfers energy to their body. The pulsating movements produced by the vibrations force the muscles to contract and relax dozens of times per second. Individuals of all ages and physical conditions can take advantage of whole body vibration to enhance their overall wellness and quality of life.
In terms of how California T-Rex Fit whole body vibration machines work, they can be set to deliver different frequencies from 5-60 hertz and amplitudes from 1-13. Higher frequencies and amplitudes provide a more intense workout for muscles, whereas the lower frequencies benefit lymph system drainage and ease those with disabilities into vibration therapy. In addition, different muscle groups are targeted by different speeds. For example, the upper body is targeted by lower speeds, while the lower body is impacted by higher speeds. T-Rex Fit users can incorporate a variety of upper body, mid-range and lower body positions to intensify the effects of their exercise routine. They can also enhance the benefit of their vibration therapy by combining weights, push-ups, stretches and other exercises.
Although California T-Rex Fit's health equipment is based on cutting-edge technology, the concept of whole body vibration machines dates as far back as ancient Greece. In the 1960s, vibration exercises similar to the ones utilized today were developed in East Germany through the work of Dr. W. Biermann. His work laid the foundation for Russian scientists who began using vibration therapy to keep astronauts from losing bone density and muscle tissue. Today, whole body vibration therapy is used throughout the world by chiropractors, physical therapists, professional athletes, celebrities, weight loss facilities and fitness centers.
T-Rex Fit whole body vibration machines are based on solid research from reputable sources worldwide. For example, various studies indicate that vibration therapy improves:

    balancing ability, muscular performance and quality of life in older adults
    exercise training endurance, including muscle strength and power
    pain management recovery from injuries in the lower back, spinal cord, ACL and elsewhere
    the body's ability to lose weight and shed potentially harmful belly fat
California T-Rex Fit whole body vibration machines are economically priced to fit almost any budget. For instance, the Silver model currently sells for $ 2,395 and comes with free shipping and no sales tax in most states. For more information, please contact Lisa Welge at 866-898-GETFIT (4383) or visit http://www.California.T-RexFit.com.
California T-Rex Fit specializes in providing whole body vibration systems that use leading-edge fitness technology to help people improve their overall health. Based in Sacramento, Calif., the company offers the most advanced machine specifications on the market in its category. California T-Rex Fit's equipment, which is suitable for residential and commercial applications, are ideal for anyone who wants to capitalize on vibration therapy to enhance their fitness level and quality of life.