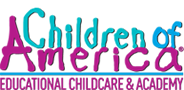 Lindenhurst, Illinois (PRWEB) July 21, 2014
Busy parents in the Chicago area have a new option for superior childcare as their children prepare to go back to school. The new Children of America Educational Childcare & Academy in Lindenhurst, Illinois, will open for business on Aug. 4.
"Families in Lindenhurst needed more options for educational childcare, and we were happy to step up to the plate," Children of America Educational Childcare & Academy President Jim Perretty said.
The school in Lindenhurst is Children of America's eighth location in Illinois. A Grand Opening Event is planned with games and activities for the whole family. The event is scheduled for Saturday, July 26 from 10 a.m. to 2 p.m. at 40 S. Route U.S. 45 in Lindenhurst.
"Our roots in Illinois already ran deep. We love the area, we love the families and we're excited for the opportunities Illinois has to offer," Perretty said.
The Mind & Body Matters program has earned Children of America Educational Childcare & Academy praise from parents and educators around the country.
"COA furthers its commitment to children buy expanding the general practice of childcare to include programs that benefit the day-to day lives of families, and help build a solid foundation for future learning for the little ones," Perretty explained.
Mind & Body Matters is comprised of four key components, working in conjunction, to support the fundamental belief that parents and educators play a crucial role in helping children develop a willingness to learn, a love of the written word, healthy eating habits and a healthy respect for physical fitness.
The Mind & Body Matters program consists of:


    COA Star Curriculum
COA uses positive daily experiences to create an environment in which children are encouraged to explore actively using all of their senses. Our curriculum works in the framework of structure, yet within that structure a planned syllabus is followed giving children a sense of security all within an advanced learning environment.

.

    Just Read Program    
Using the beloved "Bentley" the lovable Jack Russell Terrier mascot, COA designs a bi-monthly book, which helps to encourage parents to spend at least 15-minutes a day reading with their child. All books can be accessed online via any computer, smartphone or tablet.
    An Apple A Day Nutrition Program
This program encourages a healthy diet inside and outside the classroom. Children of America's registered dietitian plans on-campus meals while sharing nutritional tips and healthy recipes on the An Apple a Day blog for families at home to share.
    Presidential Fitness Program
This program helps to facilitate the idea that when started early in life "Physical Fitness" can become a healthy part of every child's life.
"Our top priority at Children of America is preparing young children for success later in life," Perretty said. "Our programs help to shape healthy, well-rounded children both mentally and physically."
About Children of America Educational Childcare & Academy
Founded in 1999, Florida-based Children of America is a leading provider of high-quality childcare and after-school programs. With about 1,800 employees, the firm operates more than 63 schools in Delaware, Illinois, Indiana, Maryland, Massachusetts, New Jersey, New York, North Carolina, Ohio, Pennsylvania, Virginia and Wisconsin. Children of America is a subsidiary of World Wide Child Care Corp. Visit ChildrenofAmerica.com for more information.