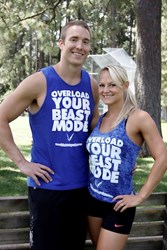 (PRWEB) October 22, 2013
Workout Anywhere by RundleFit offers members a graduated, all-level nutrition planning system that works for its national membership base. Whether one has never worked on nutrition, or seeking an advanced healthy lifestyle, RundleFits program enables all members to start, improve and ultimately establish a life plan. This same winning philosophy is available to those in need of nutritional guidance in Spokane.
Spokane Nutrition Coach, Jessica Rundle (of RundleFit) has worked with hundreds of clients, athletes, service men and just about anyone seeking an improved fitness level through fitness and nutrition. Her new primary objective is to serve those in need of the biggest obstacle in the way of fitness excellence (that obstacle being nutrition). Whether ones goal is fat loss, lean muscle gain, athletic performance or competition, Jessica has been through it all and can provide a realistic approach to a healthier lifestyle and weight loss.
Jessica discovered the power of Spokane nutrition years ago when preparing to graduate from Eastern Washington University. Her curriculum focus was largely set on the nursing or the dental hygiene (almost identical and similar to pre-med track. This includes all major sciences, anatomy & physiology, exercise science, nutrition, psychology and more), but her true calling had always been physical performance and nutrition. Personally, Jessica had always been an athlete, but dealing with a stubborn metabolism created difficulty with weight loss. This became her first major post college fitness goal. Her quest for nutrition excellence formulated into a master plan of what to eat (whether shopping for groceries or dining out), when to eat it and how to prepare it (as well as appropriate portions and craving busting solutions).
Since then, Jessica has tested all major fad diets and nutrition phenomenons to rule out what really works and is applicable for general nutrition goals. In addition to her extended research, certifications and on the job experience, Jessica has used her knowledge to fuel her competitive side as she is both a CrossFit athlete, national level figure competitor/fitness model and marathon runner. Self-exploration, on top of following the forefront of dietary science has enabled Spokane Nutritionist, Jessica Rundle to come up with the ultimate, well rounded, cleaner, leaner nutrition system for all levels.
Say no to fad diets and quick weight loss systems. If you are truly interested in a healthier lifestyle (instead of a six-week fitness highlight) and would love to learn the true benefits of Spokane Nutrition (where and what to buy when eating out or grocery shopping) contact Jessica Rundle today.