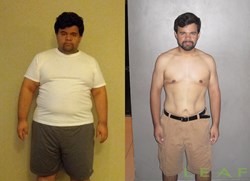 Los Angeles, CA (PRWEB) October 23, 2013
While every weight loss journey is often tough, the first step is typically the hardest to take. Nevertheless, the ability to take that step makes all the difference. It was only 6 months ago that David Diaz embarked upon a journey to lose 100 pounds with LEAF Lifestyle.
Luke Sniewski, LEAF Founder/CEO, recalls the beginning of Diazs journey. David wanted to focus his life on health. He found himself in life situations that many of us get stuck in and don't know how to get out of or who to ask for help. David took the brave and uncomfortable first step and simply said, help me. It was real. It was emotional. And I knew he had the right mindset to succeed.
Ready to embark on his journey, Diaz turned his life over to LEAFs Lifestyle Transformation program. The program focused on the 6 principles necessary for a healthy lifestyle:
1.