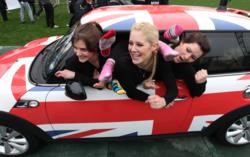 (PRWEB UK) 16 November 2012
David Lloyd Eastbournes Mini double Guinness World Record holders reckon they can break their second title by squeezing 24 women into the classic model!
Yesterday (Thursday November 15), the group of flexible female staff and members from the club in East Sussex broke two Guinness World Records for cramming the most people into a modern Mini, with 28, and then an old-style Mini, with 23.
Team leader DL Kids co-ordinator and swimming coach, Dani Maynard, said: Im very confident that I know how to get 24 into the classic Mini. We broke that world record by two on ITVs This Morning live on air in front of millions of viewers, so the pressure was intense.
Were still recovering from breaking two world records in one day, so have no immediate plans, but who knows what the future holds?
The group first squeezed 28 into a new-style Mini in aid of Children in Need, breaking their record of 27 which they set last year. The team were representing the UK in the eighth annual Guinness World Records Day celebrations at Londons Tower Bridge.

Then, they headed for the car park at This Mornings studios to attempt their second record, previously held by 21 women in Japan.
Dani and her team prepared for their amazing challenges by training in the gym at their Eastbourne club. They were supported on the day by three David Lloyd personal trainers and the clubs group exercise co-ordinator, who helped them with warm-up exercises.
Dani said: To break two world records in one day is just breathtaking! It was an experience of a lifetime for all the girls. We went through the whole gamut of emotions – from feeling sick with worry beforehand to pure euphoria at the end.
Without the motivation of raising money for Children in Need, which is such a worthwhile charity, I dont think we would ever have achieved what we did. David Lloyd Eastbourne were absolutely amazing and supported us the whole way.
Note to editors:

For further information about this press release, contact the David Lloyd Leisure press office on 01707 289833 or email press(at)davidlloyd(dot)co(dot)uk. Video and photos available.
About David Lloyd Leisure Group

The David Lloyd Leisure Group operates 80 clubs in the UK and a further 10 clubs across Europe.

David Lloyd Leisure has over 450,000 members and employs 6,000 people. This includes an expert health and fitness team of over 1,800 and contracts the services of more than 400 tennis professionals.

Across all clubs, David Lloyd Leisure has over 150 swimming pools (of which half are indoor) and offers over 10,000 exercise classes per week. Every week 20,000 children learn to swim at David Lloyd Leisure and 14,000 learn to play tennis. Its racquets facilities are unparalleled with 700 tennis courts as well as 180 badminton courts and 140 squash courts. Additional facilities include health and beauty spas, club lounges with free internet access, cr