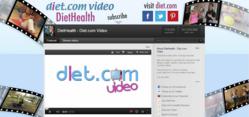 (PRWEB) October 17, 2012
Diet.com, one of the web's leading resources for diet, fitness, and nutrition content and tools, has announced the fifteen winners of last month's giveaway, which marked the surpassing of 100 million total views on their YouTube channel's fitness and recipe videos.
Fifteen viewers were randomly chosen from over 600 entries in the giveaway contest, which was announced via a YouTube video in September and invited subscribers to leave comments answering the question, "What is your favorite diethealth video?" Each comment was treated as an entry into the giveaway of fifteen potential prizes. The winners were announced last week, also via YouTube video: http://www.youtube.com/watch?v=ZB2XvsNtRWc
Five of the winners will take home prize packages, including prizes ranging from healthy snacks and beverages to fitness DVDs and personal Skype sessions with fitness experts. Ten additional winners will be rewarded with 6-month Premium memberships to Diet.com.
Diet.com also awarded each of the 5 prize package winners with a 1-year Premium membership to http://www.diet.com, which includes lifestyle-based meal plans, exercise plans, motivational monthly calendars, and unlimited one-on-one consultations and meal coaching with the site's registered dietitian, Meghan Tiernan, MS, RD, LDN.
Prize sponsors included NatureBox, Vita Coco, Hanneke Antonelli (of PilateswithHanneke.com and the Balance Your Life DVD), Stephen Cabral (of Lose5in7.com and the Lose5in7 Fatlossity Weight Loss System), Sarah Dussault (of DietHealth videos and SarahFit.com), Triumph Team Fitness, Avon representative Carol Carpenter, and Lisa Johnson (of LisaJohnsonFitness.com and ModernPilatesBoston.com).
Diet.com has been creating exclusive "Diet.com Video" content in-house since 2006 and in that time has produced nearly 550 videos. The diethealth YouTube channel currently has over 119,000 subscribers and uploads a new instructional fitness video or healthy recipe video every Monday. The channel officially reached 100 million views in early August.
Click here to subscribe to the diethealth channel.
About Diet.com: