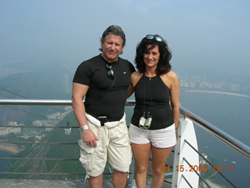 Los Angeles, CA (PRWEB)
June 23, 2015
A weight loss plateau happens when calories eaten equal calories burned – no weight loss occurs. Therefore, the most important goal in nutrition therapy is to decrease caloric intake in order to achieve a negative energy balance to promote weight loss. Sounds complicated, right? Because most people do not have a medical or nutritional background, losing weight, while avoiding a weight loss plateau and eliminating dieting side effects, can be challenging. This is why Diet Doc patients are so successful. Each patient is paired with a nutritionist who is educated in the science of weight loss, to guide them smoothly throughout their journey, designing meal and snack plans that nourish the body, yet continue to keep the metabolism in high gear for the fastest fat burn possible without harmful dieting side effects.
The Diet Doc weight loss team is comprised of specially educated doctors, nurses, nutritionists and coaches, all experts in nutritional education, who make it possible for their patients to safely, quickly and comfortably lose excess fat without dieting side effects and without weight loss plateaus.
After an online doctor consultation, during which the entire system is reviewed to identify sluggish organs, hormonal imbalances or cellular toxicity that may be causing weight gain, patients work with their nutritionist to create meal and snack plans that are interesting, easy to follow and easy to prepare.
Using their own algorithm, the diet plans are designed to be compatible with each patient's age, gender, activity level, nutritional needs and medical conditions. And, while all patients are eligible for these uniquely designed diet plans, many will qualify to increase the rate at which they trim excess fat from the hard to reach areas by incorporating one or more of the company's prescription diet products that work flawlessly with the meal and snack plans to turn the body into a fat burning machine. In fact, testimonials from actual Diet Doc patients revealed that most patients lost 20+ pounds per month without dieting side effects and without weight loss plateaus.
Diet Doc offers their patients a comprehensive diet plan that is strategically designed to deliver the safest, fastest and best weight loss possible. Their plans include unlimited consultation with their experts, as well as scheduled weekly progress calls to enable the doctor to quickly recognize sluggish metabolisms that will lead to weight loss plateaus and to immediately modify the diet plans to allow metabolism recovery, reset and quick return to fast fat burn mode.
Thousands of people throughout the country are struggling to lose embarrassing and dangerous excess fat. Many search the internet for diets that promise to melt fat without side effects only to end up disappointed and discouraged. Many others simply turn to Diet Doc, the nation's leader in medically supervised weight management. Call today to schedule a private, no-cost consultation with the experts.
About the Company:

Diet Doc Weight Loss is the nation's leader in medical, weight loss offering a full line of prescription medication, doctor, nurse and nutritional coaching support. For over a decade, Diet Doc has produced a sophisticated, doctor designed weight loss program that addresses each individual specific health need to promote fast, safe and long term weight loss.
Diet Doc Contact Information:
Providing care across the USA

Headquarters:

San Diego, CA

(888) 934-4451

Info@DietDoc.info

http://www.dietdoc.com
Twitter: https://twitter.com/DietDocMedical

Facebook: DietDocMedicalWeightLoss

Linkedin: https://www.linkedin.com/company/diet-doc-weight-loss?trk=biz-brand-tree-co-logo
More Weight Loss Press Releases