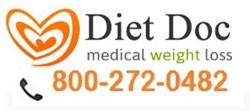 Chicago, IL (PRWEB) October 10, 2013
Excess body weight has been linked to an increased risk of postmenopausal breast cancer, classified as the number one cause of cancer related death in American women, with mounting evidence also suggesting that being overweight is associated with poor prognosis in women diagnosed with this disease in its early-stages. Countless studies have revealed that those women who are obese at the time of breast cancer diagnosis are at increased risk of cancer recurrence and death as compared with women who are leaner, with some evidence also reported on by USA Today, that women who gain weight after breast cancer diagnosis may also be at increased risk of poor outcomes. Diet Doc has developed medically supervised prescription diet plans to help all American women reduce the risk of countless weight related disease, including breast cancer.
Diet Doc has designed hormone diet plans based on scientific research and an updated protocol of a 1950s diet. In the 50s, Doctors theorized that this hormone would produce fast weight loss when the dieter followed an extremely low calorie diet by releasing stored and trapped fat into the bloodstream to be used as the primary source of energy. Patients that followed this outdated 50s diet were successful in achieving fast weight loss; however, the 500-calorie per day diet posed significant health risks.
For decades the association between the powerful hormone and fast weight loss has been researched. Benefiting from this research, Diet Doc has updated and modernized the original hormone diet plan. By increasing the allowable caloric intake, incorporating a more interesting and wider range of food choices, providing only pure, prescription hormone along with diet plans that are created by certified nutritionists, the experts at Diet Doc have helped thousands lose weight fast and safely and avoid the risk of countless weight related diseases, now including breast cancer.
Diet Docs team of specially trained and board certified physicians will evaluate each patient to assure that all participation guidelines are met. Subsequent to this review, the uniquely designed hormone diet plans will be created. Prescription hormone will be added in regulated, medically supervised doses for weight loss acceleration. This dynamic blend offers each patient a fast weight loss experience void of the typical dieting side effects. Because this hormone is enhanced with Vitamin B12, while naturally suppressing the appetite, patients are losing weight rapidly without suffering nagging between meal cravings and without the loss of energy so typically associated with dieting.