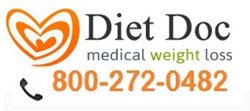 Phoenix, AZ (PRWEB) October 05, 2013
Patients find Diet Docs uniquely designed prescription hormone diet plans pleasing to the palate while being low in carbohydrates, high in healthy, lean proteins and rich in essential nutrients, promoting fast weight loss and reduced health risks. With approximately 60-70% of Americans either overweight or obese, the risk of heart disease, stroke, high blood pressure and diabetes are on the rise. In a report published by Medical News Today, the American Heart Association notes that nearly 78 million adults and 13 million children are affected by the growing obesity epidemic in America.
When the bodys weight is within a healthy range, blood is circulated more effectively and fluid levels are managed more easily, reducing the risk for countless weight related conditions, including certain types of cancers. Choosing a diet low in calories and saturated fats reduces the risk of heart disease by helping the body to maintain healthy cholesterol levels.