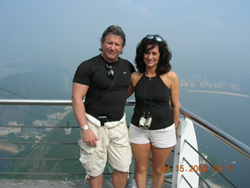 Los Angeles, CA (PRWEB) January 19, 2015
The thyroid, whose job is to make hormones that are secreted into the blood and carried to the tissues, is a butterfly-shaped gland that is located in the lower front neck. This tiny gland plays an important role in many bodily functions, including helping the body use energy efficiently, keeping the body warm and helping the brain and other organs work properly. If the thyroid gland becomes sluggish, people may notice otherwise unexplained weight gain, as well as difficulty losing excess weight.
An underactive thyroid, called hypothyroidism, means that the gland has gotten lazy. Typically associated with some weight gain, once identified, hypothyroidism can be treated with physician prescribed thyroid hormone medication. However, once the hormonal imbalance is treated and medication is stopped, patients will typically regain the weight that they originally lost.
Because most people do not have a medical background and are unaware of the importance of glands and hormones, it is crucial that they seek the advice of a specially trained weight loss doctor prior to dieting. Past medical history, current health conditions and symptoms should be entirely reviewed and assessed.
While there are many hormones that affect the body's ability to control energy, body weight and food intake, Diet Doc understands that the relationship between the thyroid gland, body weight and the metabolism is one that is very complex. With this in mind, they developed their medically supervised weight loss programs that include a private online consultation with a highly trained weight loss doctor to uncover underlying hormonal imbalances that may be causing weight gain or preventing weight loss.
After an initial consult, new Diet Doc patients work closely with certified nutritionists who will tailor meal and snack plans that are specific to each patient's personal needs and medical conditions. Qualified patients may choose to boost weight loss by enhancing their diet plans with Diet Doc's pure prescription hormone treatments, diet pills, appetite suppressants and powerful fat burners. This combination enables patients to rapidly, comfortably and smoothly transition into their new body weight without between meal hunger, food cravings or loss of energy.
Diet Doc has dedicated decades of scientific research, along with modern medical understanding, to create the nation's leading medical weight loss programs and takes pride in helping people throughout the country improve their health by identifying hormonal imbalances or other underlying causes of weight gain. They invite those who are struggling to lose 10 pounds to those who must lose 100 pounds or more to call today to schedule a private consultation.
About the Company:

Diet Doc Weight Loss is the nation's leader in medical, weight loss offering a full line of prescription medication, doctor, nurse and nutritional coaching support. For over a decade, Diet Doc has produced a sophisticated, doctor designed weight loss program that addresses each individual specific health need to promote fast, safe and long term weight loss.
Diet Doc Contact Information:
Providing care across the USA

Headquarters:

San Diego, CA

(888) 934-4451

Info(at)DietDoc(dot)info

http://www.dietdoc.com
Twitter: https://twitter.com/DietDocMedical

Facebook: DietDocMedicalWeightLoss