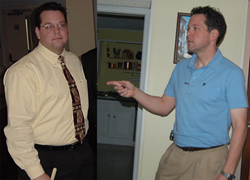 Los Angeles, CA (PRWEB) April 30, 2015
A man's body weight is largely determined by how the body balances the calories eaten with the energy burned. The less active a man is, the fewer calories the body needs for energy. Overeating and eating high carbohydrate, high calorie, processed foods results in the unused calories nestling themselves dangerously and comfortably within the body's tissues and cells. And, because the metabolism slows as a man's body ages, the rate at which they burn calories also declines. Muscle is lost and replaced by fatty tissue, putting men at a greater risk for a wealth of weight-related health conditions, as well as developing gynecomastia, more commonly referred to as man breasts. And, while gynecomastia can be the result of a hormonal imbalance, the most common cause is linked to overeating and gaining excess weight.
Diet Doc recognizes that many men avoid seeking medical treatment and avoid discussing embarrassing issues. For this reason, the company partnered with Telemedicine, which enables men to address weight loss and gynecomastia, or man breasts, without costly, time consuming and embarrassing face-to-face doctor consultations. Men can easily and effortlessly call the company or visit the website to complete a health questionnaire and schedule a private online doctor consultation. They can work closely with nutritionists to design meal and snack plans that will nourish the body and leave them energized, full and satisfied without nagging hunger, food cravings or fatigue. By providing their medical and weight loss services via Telemedicine, men can reach out to their team on an unlimited basis, who are always eager to answer questions, offer suggestions or lend their support and encouragement.
Because Diet Doc recognizes the difficulty that many men find when attempting to eliminate processed foods and carbohydrates from their diet, qualified patients can enhance their diet plans with one or more of Diet Doc's pure, prescription diet products that work flawlessly with the meal and snack plans to reduce and eliminate the typical dieting side effects. And, to ensure the safety and effectiveness of their diet products, the company continues to utilize fully licensed and FDA approved pharmacies based in the United States.
The experts at Diet Doc have helped thousands of men improve their overall general health and avoid the embarrassment of gynecomastia, or man breasts, through safe and fast weight loss. With diet plans created for those who only need to lose 10-20 pounds to those who must lose 100 pounds or more, and a level of personal and private service unparalleled by the competition, Diet Doc has become a leader in the weight loss industry.
About the Company:

Diet Doc Weight Loss is the nation's leader in medical, weight loss offering a full line of prescription medication, doctor, nurse and nutritional coaching support. For over a decade, Diet Doc has produced a sophisticated, doctor designed weight loss program that addresses each individual specific health need to promote fast, safe and long term weight loss.
Diet Doc Contact Information:
Providing care across the USA

Headquarters:

San Diego, CA

(888) 934-4451

Info(at)DietDoc(dot)info

http://www.dietdoc.com
Twitter: https://twitter.com/DietDocMedical

Facebook: DietDocMedicalWeightLoss

Linkedin: https://www.linkedin.com/company/diet-doc-weight-loss?trk=biz-brand-tree-co-logo