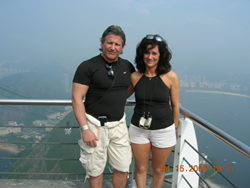 Houston, TX (PRWEB) September 22, 2014
Research reveals that the body's supply of human growth hormone, or hGH, significantly declines during the aging process. This decline allows the body to show signs of wear and tear, such as wrinkles, droopy skin, weakened muscles and loss of stamina. Clinical studies suggest that Sustained Elevation of Pulsatile Growth Hormone (GH) Secretion and Insulin-Like Growth Factor I concentrations also significantly decline in healthy individuals thus, triggering the aging process.
Decades of scientific research has enabled Diet Doc to develop prescription Sermorelin hGH anti-aging therapy. The safe alternative to HGH, this powerful hormone naturally restores the body's hGH production to more youthful levels without the side effects associated with human growth hormone. http://www.dietdoc.com/sermorelin
An in-house clinical study revealed that thousands of Diet Doc patients report looking and feeling younger with prescription Sermorelin hGH anti-aging therapy. They report a reduction in wrinkles, smoother, younger looking skin, improved mood and an overall feeling of wellbeing. Aside from these powerful benefits, prescription Sermorelin hGH anti-aging therapy provides a wealth of benefits, including:

    Fat reduction;
    Increased lean muscle mass;
    Increased bone density;
    Enhanced memory and brain function;
    Improved heart and kidney function;
    Better sleep quality;
    Strengthened immune system;
    Improved libido;
    Improved exercise tolerance;
    An overall feeling of general wellbeing.
Diet Doc offers their prescription Sermorelin hGH anti-aging therapy to qualified patients subsequent to a medical evaluation and online doctor consultation. The sale of this powerful anti-aging treatment is strictly regulated in the U.S. and it is impossible to obtain without a physician prescription. Although various hGH outlets may be available via the internet, these over the counter supplements are normally manufactured outside of the U.S. with no safety guidelines to ensure patient safety and satisfaction and typically contain unknown fillers that may be unsafe. Purchasing HGH from anyone other than a physician has no value and may result in dangerous side effects. Only authentic HGH can provide the true advantage of this amazing hormone.
Diet Doc has built its reputation on providing only the safest and most effective products to patient throughout the country. For this reason, their prescription Sermorelin hGH anti-aging therapy is manufactured in FDA approved pharmacies in the U.S. Patients will find a Certificate of Analysis, performed by a third party laboratory, which details the quality and quantity of ingredients, with each shipment of their prescription Sermorelin.
About the Company:

Diet Doc Weight Loss is the nation's leader in medical, weight loss offering a full line of prescription medication, doctor, nurse and nutritional coaching support. For over a decade, Diet Doc has produced a sophisticated, doctor designed weight loss program that addresses each individual specific health need to promote fast, safe and long term weight loss.
Diet Doc Contact Information:
Providing care across the USA

Headquarters:

San Diego, CA

(888) 934-4451

Info(at)DietDoc(dot)info

http://www.dietdoc.com
Twitter: https://twitter.com/DietDocMedical

Facebook: DietDocMedicalWeightLoss