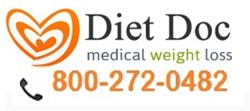 Birmingham, AL (PRWEB) August 01, 2013
Chronic Fatigue Syndrome plagues its sufferers with unexplained fatigue that may last 6 months or longer. Symptoms may include short term memory and concentration impairment, muscle and joint pain without swelling or redness, headaches, sore throat, tender lymph nodes, unrefreshing sleep and malaise that lasts for 24 hours or longer.
Losing as little as 10 or 20 pounds of excess weight can bear a significant effect on insulin resistance, an abnormality strongly linked to chronic fatigue. At a healthy body weight, insulin facilitates the transport of glucose into the cells of the body to be used for energy. Insulin resistance desensitizes the response of the cells to insulin, impairing this process. As a result, glucose and insulin levels become unbalanced, causing fatigue, as well as leading to countless other serious health risks.
The most effective method of overcoming obesity-related chronic fatigue is to lose weight by following a sound nutritional diet plan. Seeking professional nutritional guidance will pave the way for longevity, obtaining a more peaceful and restful sleep to enjoy a more active lifestyle, boosting self confidence and self-esteem, and leaving patients looking and feeling better than ever before.
Decades of scientific research have allowed Diet Doc to offer healthy and fast weight loss to those who suffer from weight related conditions, including chronic fatigue. By combining pure, prescription medication with personalized diet plans developed specifically to each patient's nutritional needs, Diet Doc has become the leader in medically supervised prescription weight loss and effective diet plans.
Based on information collected during a simple, yet detailed, medical evaluation and professional doctor consultation, certified nutritionists then design diet plans unique to each patient's medical and nutritional needs. These nutrient rich diet plans are designed to be simple, yet interesting, and incorporate a wide range of delicious and healthy food choices, avoiding the boredom that is typically associated with more restrictive diet plans.
For numerous reasons, including convenience, the inclusion of energy-boosting Vitamin B12, and the Diet Docs diet plans ability to promote faster weight loss while preventing between meal cravings and muscle loss during dieting, painless prescription weight loss aids continue to be the most preferred method to lose weight fast among patients. The dynamic blend of the patient specific diet plans coupled with prescription medication promotes healthy and rapid weight loss by instructing the brain to target, release and burn years of trapped and stored fat.
The professionals at Diet Doc have improved their prescription diets, adding more calories to the daily regimen, updating the dieting protocol, and improving the consistency of weight loss through complex nutritional science. Clients looking to contact a weight loss clinic in Birmingham, Alabama will be happy to know that Diet Doc is available nationwide with the ease of a telephone call. The powerful combination of prescription diet pills and weight loss aids, customized diet plans, and professional guidance and support from dieting experts who are available 6 days per week has resulted in over 97% of Diet Doc patients boasting results of up to five pounds per week. Patients are looking better, feeling better, obtaining better and more restful sleep and enjoying a more active and satisfying lifestyle by successfully losing excess and unhealthy weight.
Call Diet Doc today to schedule a free and confidential consultation and to join the thousands of Americans who have reduced their risk of chronic fatigue syndrome, as well as countless other weight related diseases and conditions by achieving extreme and long term success.
Diet Doc Contact Information:
San Diego, CA

(800) 272-0482

Weight-loss(at)Dietdoc(dot)info

http://doctorsupervisedweightloss.com/
Twitter: DietDoc10

Facebook: DietDochcg