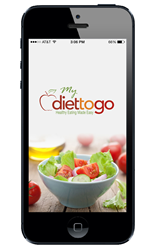 Lorton, VA (PRWEB) July 22, 2014
MyDiettogo now provides virtual meal, weight and exercise trackers, as well as community discussion forums, to make it easier than ever for customers to lose weight and improve health. Customers now can track their Diet-to-Go meals, change their plan, and connect with others on the same journey, all from their computer or smart phone. Diet-to-Go now also provides free daily access to its professional staff Nutritionist and Certified Health Coach.
According to the Pew Research Center's Internet & American Life Project, 60% of adults in the U.S. track their weight, diet, or exercise routine. This is good news for Americans' growing waistlines – research shows that dieters who track their foods lose up to twice as much weight as those who don't.
"For 23 years, we've been committed to helping our customers achieve their goals. By investing in these new online and mobile tools, we're able to significantly elevate our level of support to help them reach and maintain a healthy weight for life," says Hilton Davis, CEO of Diet-to-Go.
Diet-to-Go has helped over 200,000 customers and continues to create delicious, award-winning meals, provide online account access and real-time personalization of meal plans, and expand support resources to give customers the help they need to lose weight and improve overall health. These resources, combined with online and mobile meal and exercise trackers, community discussion forums, and more, make Diet-to-Go an industry leader for providing the most convenient and healthy weight-loss meal plans.
About Diet-to-Go

Diet-to-Go is a meal plan delivery service company. Since 1991, its mission has been to provide customers with healthy, delicious, affordable meal plans that will help them lose weight naturally while learning to adopt sustainable, common-sense eating habits.