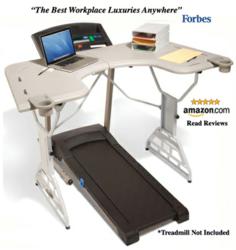 San Francisco, CA (PRWEB) February 13, 2012
Fast Company, known as the worlds leading progressive business media brand with an editorial focus on technology, leadership and design, interviewed Digg.coms co-founder Kevin Rose on his unique solution to staying active in the office: a TrekDesk Treadmill Desk.
Kevin, a serial entrepreneur first found about the TrekDesk from another well known technical innovator Michael Arringtons blog and decided to buy one for his office. Asked about his experience with the TrekDesk by interviewer Amber Mac he stressed the simplicity of the concept. You bang out some emails and all of the sudden its like wow, I have been walking for an hour and a half.
The technology industry represents a loyal customer base for TrekDesk, stated Steve Bordley, CEO of TrekDesk Treadmill Desks. Innovators such as Kevin and Michael have an ability to seek out and quickly recognize solutions to problems. The tech sector in general is an extremely sedentary work environment, TrekDesk offers them an affordable, practical solution to improve their health and productivity while they work.
Visit Fast Company to hear the entire interview along with other tips on how to stay productive at the office at http://www.fastcompany.com/1815525/work-flow-kevin-rose-of-milk.
Designed to fit any existing treadmill, TrekDesk treadmill desk is an affordable, full sized, height adjustable workstation that allows individuals the opportunity to gain the necessary amount of exercise daily to maintain health, prevent disease, strengthen muscles, boost mood and productivity, without requiring additional time during the day or extra motivation. Workout at work with TrekDesk. No sweat!
TrekDesk is currently available for sale online at Amazon.com for $ 479.00 including free shipping.
Join the TrekDesk Movement Revolution to learn more, win a free TrekDesk or ask us any questions anytime at http://www.facebook.com/trekdesk, or follow us on twitter -http://www.twitter.com/trekdesk.
###