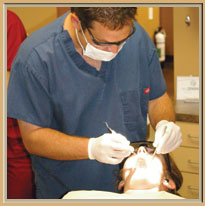 Charlotte, North Carolina (PRWEB) December 07, 2012
Strange as it may sound, Dr. James Wells of South Charlotte Dentistry is advising his young patients to eat a diet rich in Shiitake Mushrooms, Sockeye Salmon and eggs! These are foods that are highest in Vitamin D and he believes are a key to a cavity free life. He cites evidence from a previously published study in the December edition of Nutrition Reviews. Researchers used new technology to explore 24 controlled clinical trials previously published from 1920 through 1980.
The clinical trials were re-opened and examined with technology that was not previously available. They showed that Vitamin D is a significant factor in the reduction of cavities.

Using the old data, modern day researchers proved that Vitamin D nearly halved the amount of tooth decay in the children of these studies.
"My main goal was to summarize the clinical trial database so that we could take a fresh look at this vitamin D question," said Dr. Philippe Hujoel of the University of Washington, conductor of the review.
This discovery does not come without controversy. Vitamin D has always been known to be a major benefit to bone health, but its effectiveness in reducing cavities has been hotly disputed through the years. In 1950 the American Medical Association and the National Research Council made the claim that Vitamin D is a beneficial factor in dental cavities, while the American Dental Association disagreed with that conclusion from the evidence given. Later, in 1989, new evidence was introduced to suggest that Vitamin D may be beneficial, but the National Research Council still noted it as an unresolved issue.
Such inconsistent conclusions by different organizations do not make much sense from an evidence-based perspective," Hujoel said.
There were over 3,000 children surveyed in the trials reviewed, and they were given Vitamin D through a variety of different methods such as UV radiation, cod liver oil pills, and other diet supplements. No matter how the Vitamin got into the children, every trial still showed signs that the Vitamin was likely reducing cavities.
Other researchers are coming forward and weighing in on the discovery, with most claiming that the news is of no surprise. Dr. Michael Hollick, professor of medicine at the Boston University Medical Center, said that "the findings from the University of Washington reaffirm the importance of vitamin D for dental health." He went on to say, "children who are vitamin D deficient have poor and delayed teeth eruption and are prone to dental cavities."
There is also evidence to suggest that this discovery couldnt have come at a better time. Scientists are noting that the level of Vitamin D being taken in by children has been decreasing over time, significantly so in recent years. Meanwhile, the amount of cavities present in children in recent years has simultaneously been increasing. Dr. Wells believes this information is accurate and is trying to educate the young parents that visit his practice. He notes, A Vitamin D rich diet and sunshine, also a good source of Vitamin D, can only help the overall health of a child.
South Charlotte Dentistry is excited about this new discovery and looks forward to hearing more about the benefits of Vitamin D in reducing cavities. In the meantime, Dr. Wells advises everyone to eat a diet rich in Vitamin D and get outdoors a bit each day. Vitamin D is very likely to be beneficial to reducing cavities, and even if it isnt it has many other health benefits that affect the whole body which in turn can affect oral health.
Find More Diet Pills Press Releases