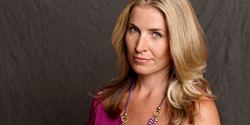 Los Angeles, CA (PRWEB) November 04, 2014
Stoking desire shouldn't take much work — something as simple, and ephemeral, as a sext can get the job done. But it's the holidays. It is time to think on a larger scale, and to come up with gift ideas that are lasting, rather than fleeting.
Nothing gets the engines revving, and will be remembered by a partner as a fantastic gift, quite like a boudoir photo.
Dr. Kat, prominent sexologist and family therapist, said clients routinely ask her for tips for steamy boudoir photos.
"A great boudoir photo involves more than just lifting your skirt to get a shot of your ya-ya of the sisterhood," said Dr. Kat. "The shot has a different goal. You want to titillate your partner with your sexiness; you want to broadcast your sexual essence through the camera in a steamy setting, with maybe a few helpful production flourishes."
Explicitness

Everybody has a different definition of explicit, and there aren't any rules about what is, and isn't, appropriate. Anything from a come hither look to a full frontal works. The extent of the explicitness hinges on what the subject of the photography session thinks will appeal to the partner. However, it is important to remember that break-ups do happen, and photos do leak. If the thought of the photo session getting passed around makes you extremely uncomfortable, it might be wise to re-think the approach. Also, always destroy what is not used from the photo session.
Comfort

Embrace yourself. Now. Don't go on a crash diet. Don't head to the cosmetic surgeon before the shoot. Your own skin is what's beautiful. This can be a great exercise in really embracing yourself. Try on clothes ahead of time, to decide what fits you best and what makes you feel the most sexy. Use mirrors, or do selfies, to explore different angles.
Who? How?

There are plenty of professional photographers who specialize in boudoir photos, and have a comfort-level with the style of photography that others may not possess. More interested in doing it yourself? A good tripod is a great investment. But a second pair of eyes, and having someone who can hold the camera and shoot from different angles, is extremely helpful. A trusted friend can be a good option. Another idea: include your partner. Talk about fantastic foreplay!
Setting

Doing the shoot in front of the apartment picture window might not be the best plan. Find a place where you can be entirely comfortable, and uninhibited. Give the bedroom a quick makeover with satiny fabric, or something else that shouts "sexy!" Experiment with lighting. Props like peacock feathers, silk pillows and candles can help establish a steamy mood. A pre-shoot drink doesn't hurt either!
Making love to the camera

The idea of somehow evoking smoldering sexuality while staring into a camera doesn't sound easy. But getting in touch with your sexy side can be easier than you think. Run an especially hot fantasy through your mind while posing. Feel free to masturbate prior to, and in between, shots. Try to channel that feeling of orgasmic ecstasy, the way you feel when you are between the sheets with your partner, though the camera as though it was your hot partner.
"Doing a boudoir photo really tells your partner how much you want them, and it can be nice to have the photos around to look back upon as you age — a nice time capsule," said Dr. Kat. "The process can reinforce your self-esteem, and really help you embrace your inner sexuality."
About Dr. Kat: Dr. Kat Van Kirk has a PhD in Human Sexuality/Clinical Sexology and a masters in Marriage, Family and Addictions Recovery Therapy. She runs the website: http://www.drkat.com and is the resident expert for Adam and Eve (http://www.AdamAndEve.com). She also is an author and media host.
Follow her on Facebook: https://www.facebook.com/drkatvankirk or Twitter: @drkatsexchat
Find More Exercise Press Releases