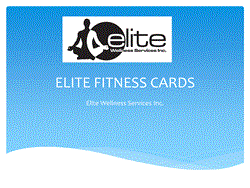 Toronto, ON (PRWEB) January 29, 2014
The Elite Fitness Cards, launched on Indiegogo, offers a unique and convenient way to stay fit, making it a perfect tool for those struggling with finding a convenient way and time to exercise. With these cards, you can work out anytime and anywhere you chose.
These cards were originally developed for the school system– for physical education teachers to use within their classes. This is because the exercises were designed to be fun, safe and non-competitive, an important feature because a lot of students avoided physical education classes because they were intimidated by the competitive nature of some of the programs. However, these cards have proven effective for those wanting to lose weight and just to get fit.
The benefits of Elite Fitness Cards include: