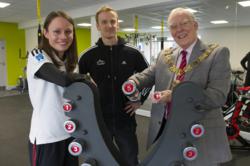 (PRWEB UK) 4 February 2013
Top long-distance runner Louise Damen was joined by the Mayor of Winchester Cllr Frank Pearson for a fitness workout at the official opening of David Lloyd Studio Winchester today, Monday, February 4.
Champion athlete Louise Damen – the fastest British finisher in the recent European Cross Country Championships – and Cllr Pearson were put through their paces by personal trainers at the Andover Road-based studio.
The facility is David Lloyd Leisures second high street studio aimed at giving time-pressed clients of all fitness levels easy, flexible access to exercise and nutritional services in the first initiative of its kind by a major health and fitness operator in the UK.
Louise, the 2011 English National Cross Country Champion who lives in Winchester and is a PE teacher at Peter Symonds College, said: Its great to see a health and fitness studio on Winchesters high street, especially as its right on my doorstep, and Ill definitely be popping in when I can!
It can be hard to find time to exercise, and the new David Lloyd Studio makes it easy to slot fitness into your daily routine. I am sure it will encourage more people in Winchester to be active, stay healthy and enjoy sport.
Cllr Pearson commented: I am delighted that a premium international brand like David Lloyd Leisure is investing in Winchester. David Lloyd Studio is great for the local community, the facilities look fantastic and I am very impressed with the friendly trainers who offer expert help for everyone looking to get active.
David Lloyd Studio will not only boost the viability of our town centre, but will also encourage us to be healthier and fitter. I tried personal training and the studios fitness equipment today, and I am already tempted to improve my own fitness levels.
Offering a flexible way to exercise and stay healthy with the expertise of Europes premier health, sport and leisure group, no membership fee is required to access David Lloyd Studio facilities and services which include one-to-one and group personal training, exercise classes, running clubs, weight loss programme Lose & Shape Up, and physiotherapy.
David Lloyd Studio Winchester manager Alastair Crew said: I am looking forward to bringing this new studio concept to Winchester. I am excited by the positive response we've received so far and my team and I can't wait to start helping the people of Winchester move towards their fitness goals."
Click here for more on David Lloyd Studio Winchester.
ENDS

Note to editors: To try out David Lloyd Studio at Harman House, Andover Road, Winchester, SO23 7BS or call 0844 6920993. For further information about this press release, contact the David Lloyd Leisure press office on 01707 289833/4 or email press (at) davidlloyd (dot) co (dot) uk.
About David Lloyd Leisure Group

The David Lloyd Leisure Group operates 81 clubs in the UK and a further 10 clubs across Europe. It has over 440,000 members and employs 6,000 people. This includes an expert health and fitness team of over 1,800, while it contracts the services of more than 400 tennis professionals. Across all clubs, David Lloyd Leisure has over 150 swimming pools (of which half are indoor) and offers over 10,000 exercise classes per week. Every week 20,000 children learn to swim at David Lloyd Leisure and 14,000 learn to play tennis. Its racquets facilities are unparalleled with 700 racquets as well as 180 badminton courts and 140 squash courts. Additional facilities include health and beauty spas, club lounges with free Internet access, cr