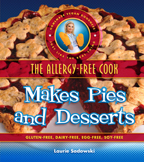 Summertown, TN (PRWEB) July 29, 2014
More than two million people in North America are diagnosed with celiac disease or experience some form of gluten sensitivity or intolerance. The gluten-free food market is a $ 4 billion dollar industry which is indicative of both the demand and the high cost of gluten-free products.
The Allergy-Free Cook Makes Pies and Desserts (September 2014), is the latest in a series of baking books by Laurie Sadowski, aka "The Allergy-Free Cook." Emphasizing the sweeter side of life with an impressive assortment of flaky pies, fruity cobblers, delicate tarts, gooey pudding cakes, rich cheesecakes, and spectacular frozen delights, these recipes will be enjoyed by friends and family alike.
For Laurie, "Health and nutrition are priorities…, but let's be honest—so is dessert. " From buckles, grunts, and pandowdies to making the perfect pie crust, Laurie's magic kitchen provides a mini-course in dessertology. Recipes are completely free of gluten, dairy, soy, and eggs, and accommodate restricted diets without skimping on flavor or texture.
In 2005 Laurie was diagnosed with celiac disease and soon discovered that she was also allergic to casein, the dominant protein found in milk and cheese. Around the same time that her diet evolved into being completely plant-based, Laurie fell in love with baking and became inspired to recreate all her favorite foods that were now off limits.
Her first book The Allergy-Free Cook Bakes Bread (2011) brings back the irresistible aroma and tantalizing flavor of freshly baked specialty breads, bagels, scones, muffins, crackers and biscuits. Next was The Allergy-Free Cook Bakes Cakes and Cookies (2013), a collection of stellar baked goods that include moist and fluffy cakes, sinfully rich bars, bundt cakes, crispy-chewy cookies, biscotti, cupcakes and streusels.
Precise, step-by-step instructions ensure that novice bakers as well as the pastry proficient can be successful. Each book introduces a baking arsenal of highly nutritious gluten-free flours and starches as well as whole foods free of unrefined ingredients. Laurie's guidelines to hidden allergens and cross-contamination through ingredients or equipment help guarantee a safe kitchen environment.
Laurie—a personal trainer and nutrition and wellness specialist—lives in the Niagara region of Ontario, Canada. More information about vegan and gluten-free cooking and baking can be found at http://lauriesadowski.com.