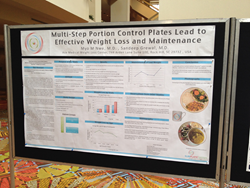 Rock Hill, South Carolina (PRWEB) August 13, 2014
The University of Bath in the UK found that exposure to certain pathogens released during fasting led to a severe reduction in immune response – leading test subjects more susceptible to infection. The study, which was published in the journal Evolution, was carried out on fruit flies, but the genes studied are very similar to those in humans, prompting researchers to believe their findings could have strong implications for those who opt to fast when losing weight.
SlimPlate System is a healthy alternative that doesn't require any form of intermittent fasting – just a simple portion control system that allows anyone to enjoy a healthy, balanced diet. There is no need to skip any meals or spend hours without consuming any calories – dieters can eat exactly the same foods as they always have, as long as they fit within the confines of the unique portion control plates.
Dr Nwe for the weight loss solution says, "With research proving that these intermittent fasting diets could have a number of adverse effects, including a reduced ability to fight off infection, we would encourage anyone looking to lose weight to try out the SlimPlate System. It won't compromise immune systems and there are no long days with only minimal calories consumed – the simple premise involves eating right portion of the foods that are already consumed, reducing the calorie intake sensibly and sustainably."
SlimPlate System has been designed and approved by expert physicians, and it's a research-proven method of losing weight. The four-stage plan triggers weight loss quickly and efficiently, and then with a special 'maintenance plate', those who have reached their target weight can stay there – no fluctuations, no radical weight gain and no fuss.
The system comes complete with a pack of plates, cups and boxes to store packed lunches so there's never a situation where SlimPlate System can't be used. Whether taking food to work or dining in with the family, SlimPlate can be utilised just about anywhere as a simple and effective way to shed pounds and achieve a healthy lifestyle.
To find out more about SlimPlate System, visit the website: http://www.slimplatesystem.com/
About SlimPlate System:

SlimPlate System is a four-stage weight loss program that shuns deprivation for portion control. The system, which has been designed by physicians and proven by research, is easy to implement and maintain, with no calorie counting, costly supplements or juice fads.