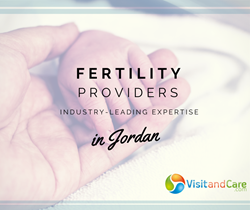 Chicago, IL (PRWEB) February 18, 2015
The fertility clinic of Dr. Rami Hamzeh is one of the few fertility centers to deliver the highest success rates in the Middle East. The fertility clinic in Jordan has announced an innovative IVF program to accelerate its industry-leading expertise in the field of reproductive medicine.
It also marks the start of another incredible year for the VisitandCare.com partnered fertility provider. The IVF clinic in Jordan offers diagnosis and treatment of male and female infertility, including intra uterine Insemination (IUI), in vitro fertilization (IVF), and Gender Selection.
"Our partnership with exclusive fertility providers in Jordan creates a platform for unequalled contributions to fertility care and improvements in reproductive endocrinology. The IVF clinic of Dr. Rami Hamzeh is not only committed to delivering affordable treatment, but also an unyielding mission for new technologies, further distinguishing them from other clinics. When we partner with a provider, the goal is to improve the quality of life for our patients," stated Tolga Umar, CEO and Founder of VisitandCare.com.
Advanced IVF Treatment in Jordan —
As a result of its continued partnership with VisitandCare.com, the fertility clinic in Jordan is reaching more intended parents who desire to build a family. Since 2013, the clinic has seen an increase in patients — resultant of its commitment to a non-discriminatory approach to patient treatment.
"Our clinic strives on offering patients high-quality standards, high success rates, and unrelenting involvement to the future of reproductive medicine. Our aim in Amman is to significantly enhance the family building experience through unprecedented levels of communication, and a safe, comfortable environment. Not only do we offer individualized, advanced, state-of-the-art treatment options, but we are now providing these technologies at the most affordable costs possible," stated, Dr. Rami Hamzeh, Lead IVF Doctor at Dr. Rami Hamzeh Fertility Clinic.
The clinic continues to achieve high clinical pregnancy rates — incorporating an advanced IVF program based on advances in treatment protocols, laboratory advancements and embryo transfer techniques.
Fertility Success in the Middle East —
The early and accurate diagnosis of infertility is very significant for choosing the most suitable IVF treatment. The IVF expertise represented by Dr. Rami and his team provides the most comprehensive guidance and assistance to identify the cause of infertility and appropriate treatment according to diagnosis.
When asked about the center's success, clinic representatives stated, "As one of the fertility centers with the highest pregnancy rates in the Middle East, we are proud that we have achieved success without turning away perplexing cases. Our emphasis on research and innovation ensures that patients receive the most progressive diagnostic tests and advanced fertility treatments available today."
VisitandCare.com continues to leverage the complementary strengths of its global fertility providers — ultimately setting new standards for the medical tourism industry.
About VisitandCare.com

VisitandCare.com was created to give individuals worldwide valued direction locating a doctor, obtain free medical treatment quotes, and uncover affordable medical treatments at destinations of their choice. Improving Patients Lives |The company provides access to exclusive doctors and hospitals who specialize in infertility, plastic surgery, cosmetic dentistry, laser eye surgery, orthopedic surgery, hair transplantation, weight loss surgery, heart surgery and cancer care. Patients are matched with devoted multilingual patient facilitators and provided tangible connections to doctors worldwide. Promoting Your Healthcare Brand | For the ultimate connection between the healthcare industry and patients worldwide, the company delivers an unrivaled commitment to create sustained value for medical partners. Contact VisitandCare.com to see if you are eligible to become a partner of the exclusive network.