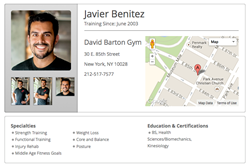 New York, NY (PRWEB) November 14, 2013
Find Your Trainer (FYT) is a New York-based startup that is transforming the personal training industry by making the process of finding and booking a personal training session as easy as making a restaurant reservation or buying a plane ticket online, and at nearly half the cost as booking a session through the gym.
FYT recently launched in New York City at David Barton Gym, one of the premier health clubs in the country with locations across the United States. In the past month alone, over a dozen new gyms and private studios and over fifty personal trainers have joined the platform, with more joining every week. As demand for their platform continues to increase, FYT plans to work with other leading gym chains to expand nationwide.
With detailed personal trainer profiles that include photos, specialties, certifications and availability, FYT puts the choice of who to work out with and when into the hands of the customer. Users can also find private trainers for hard-to-find specialties like Pilates, yoga, triathlon, obstacle courses, boxing, nutrition, post-natal recovery and injury rehab. Customers can try out as many trainers as they wish until they find one they like, and in what might be a first for the health club industry, FYT users dont need to be a member of the gym to work out with its trainers.
We started FYT because we are big believers in the value of personal trainers in an increasingly health-conscious world. But while we are fans of personal training, we know that a lot more people would try it if the process of buying and scheduling personal training wasnt so outdated and difficult. Companies like Open Table, Travelocity, ZocDoc and Seamless have proven that the experience can and should be frictionless and affordable, said David Hung, CEO and co-founder of FYT.
The launch of FYT coincides with three major consumer trends: