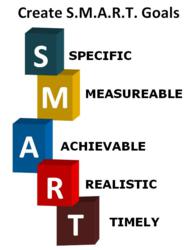 Baltimore, Md. (PRWEB) January 16, 2013
Fit and Healthy with Beth gives her top tips for staying on track and getting in shape in 2013. For many, this is a time of losing steam and falling off track. Here are the tips to prevent that from happening.
As a personal trainer Fit and Healthy with Beth sees many clients who have weight loss goals but never seem to accomplish them. It is easy for someone to say they want to reduce their body fat by 50% or "I want to lose 20 pounds." Sure those are great goals but without a game plan these are not likely to happen. The key is to set goals that meet the SMART criteria!
S.M.A.R.T goals are those with guidelines and deadlines and are outline below.
Specific — So, for example, "I want to lose weight is NOT specific! Instead I want to lose ___ pounds." Specific goals have standards and actually lay out a plan.
Measurable — this means there must be an actual number attached to the goal. Losing a set amount of weight or percentage of body fat is a great example of this.
Attainable — Can this goal actually happen? For example, "I want to lose 20 pounds" is attainablebut not in one week!! In this case the best thing to do is to break down that goal into mini chunks like:"I want to lose 2 pounds per week." Attainable simply means the goal must be doable.
Realistic — For a goal or resolution to be realistic, the person must be in the right place and mind set to actually make this happen as well as be willing to make the changes needed. If someone is committed to eating a pizza every day and will not change then a realistic goal is not to lose 20 pounds.
Timely — For this to work, the goal must have a deadlines associated with it. "I will be 20 pounds lighter by March 2013" is a great example of a timely goal.
All goals are possible with a little planning, research, and of course commitment!
For more tips visit http://www.fitandhealthywithbeth.weebly.com
About Fit and Healthy with Beth:

Fit and healthy with Beth's sole purpose is to teach other people how to change their lives with health and fitness. Fit and healthy with Beth is personal trainer, Beachbody coach, nutrition consultant and group exercise instructor focusing on women's weight loss and fitness for busy people.
Find More Lose Weight Press Releases