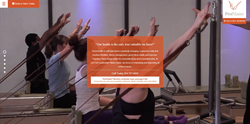 Fort Lauderdale, Florida (PRWEB) June 18, 2015
Innovative second-generation Pilates instructor and owner of ProPilates Studio in Fort Lauderdale, Tonka Cascais, today announced the launch of a new, redesigned version of the ProPilates website, http://www.propilates.com. The sleek new website boasts updated videos, photography and wide range of services pages and lifestyle solutions.
"We are very happy to offer our clients, old and new, a beautiful website where they can connect with our studio, find helpful information and learn about the tools they need to live a healthier life through nutrition and exercise," said Tonka Cascais, Owner and Creator of ProPilates.
The creator of the life-changing ProPilates Lifestyle Solutions Studio, Tonka Cascais, is excited to expand the ProBeauty program to now include exclusive access to renowned skin care line, DNA Skin Care, created by Dr. Noel Aguilar. The skin care line features the DNA CryoStem Cell Skin Therapy which is now part of the ProBeauty Signature Facial Treatments and is designed to correct, rebuild, nourish and preserve skin while influencing future generations of skin. It is recommended that a series of 6-10 treatments be performed over 90 days. All treatments are determined for clients based on a thorough evaluation of their skin.
Improvements to the sexy new website include:


    Updated Fresh Design – the responsive website features new content, photography, videos and more.
    ProPilates Method Breakdown – visitors can read a detailed overview of the ProPilates Method including Private ProPilates Sessions, Reformer Pilates, Mat/Tower Classes, Pilates Barre Classes, Spinlates, Cardio Ballet, AirBarre, Anti-Gravity Fitness and more.
    Updated ProLifestyle Section – the new site features a look into ProNutrition services, Acupuncture services like Mei-Zen Cosmetic Acupuncture and Biopuncture Injection Therapy, ProBeauty services including Endermologie and DNA Facial Treatments.
    Benefits Section – visitors to the website can learn about the wide array of benefits of ProPilates such as perfecting a golf swing, weight loss, healthy pregnancy, relieving back pain and more.
    Testimonials– see what ProPilates clients have to say about the Fort Lauderdale based Pilates studio, the team and how ProPilates has helped improved their quality of life.
    Book a Class – review upcoming class schedules and book your class easily online.
    Blog – visit the blog to learn about trends, lifestyle tips and advice, recipes, studio news and upcoming events.
The website's modern new aesthetic, enhanced content, optimization for mobile devices and user-friendly navigation allows consumers to better interact with ProPilates online.
In celebration of the ProPilates expansion, the studio is proud to announce that they will be hosting leader and pioneer in AntiGravity yoga and founder of AntiGravity Fitness, Christopher Harrison for both teacher training and public classes on June 18th at 11:15AM, June 19th at 11:00AM, June 20th at 12:00PM and June 21st at 11:00AM.
ProPilates encourages members of the Fort Lauderdale community to visit our website, schedule a free session and begin transforming their bodies through low-impact exercise, stress management and healthy nutrition. No Pain, More Gain! No need to destroy the body to achieve to achieve fitness goals! At ProPilates Lifestyle solutions clients are educated and prepared for long-term success in wellness and fitness.
About ProPilates

ProPilates Studio in Fort Lauderdale, Florida offers results-proven methods and complete programs that include studio Pilates, ProNutrition, ProBeauty and ProStyle. Our life changing methods include comprehensive solutions towards achieving a sexy, leaner, more sculpted, stronger and flexible body, while promoting optimum health, youth, and vitality. Created by ProPilates owner and 2nd generation Pilates instructor, Tonka Cascais, the ProPilates® Method utilizes Tonka's vast experience with Pilates and the human body in a personalized program for anti-aging, joint health, and weight loss exercise with no impact on the joints.
Many celebrities found their way to ProPilates® Studio and Tonka Cascais, in order to benefit from the extraordinary effects of the ProPilates® Method such as actor Alec Baldwin, as well as "Graceland" stars actresses Serinda Swan and Vanessa Ferlito, Mary and Cliff Floyd, Larsa and Scotty Pippen, Claire Marino, Kim Bokamper and Richie Incognito.
Find More Weight Loss Press Releases