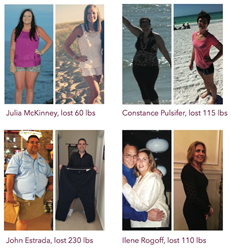 New York, NY (PRWEB) December 16, 2014
Dieting can be difficult no matter how much weight you have to lose, and for many people it takes trying numerous different diets to finally lose the weight. For hundreds of thousands of dieters, the high protein and low carb Dukan Diet is the weight loss plan that worked for them. Now, the Dukan Diet celebrates the weight loss success of four of their biggest losers including Constance Pulsifer, John Estrada, Ilene Rogoff and Julia McKinney, who have collectively lost over 500 pounds. Here are their stories:
Constance Pulsifer (23 years old, Lost 115 pounds): Like many women, Constance tried every diet out there with no success. For years she struggled with low self-esteem and health problems like pre-diabetes due to her weight, which at her heaviest was 270 pounds. After losing 115 pounds on the Dukan Diet, Constance has maintained her weight loss for over three years and her health has improved significantly. Constance now shares her inspiring weight loss journey through her Facebook page and YouTube channel.
John Estrada (43 years old, Lost 230 pounds): After trying many diets with no long-term success, John decided to try the Dukan Diet after a friend referred him to it. He started the Dukan Diet at 460 pounds and over the course of one year lost half of his weight. Now, John is healthier and more active than ever and accomplished his personal goal of completing a 35-mile bike tour.
Ilene Rogoff (52 years old, Lost 110 pounds): Ilene struggled with weight issues throughout her life due to poor eating habits and bad genetics. When she turned 50 and was expecting her first grandchild, she realized that her health needed to be a priority. After losing 110 pounds on the Dukan Diet, Ilene continues to follow the diet and leads a very active lifestyle, where she now runs a spin studio in Bellmore, New York.
Julia McKinney (23 years old, Lost 60 pounds): Julia is a preschool teacher who borrowed the Dukan Diet book from one of her students' parents. Within three months she dropped 60 pounds and has kept it off. Julia likes the diet because she saw fast results and she feels so much healthier now. Now Julia is working to maintain her weight loss and is getting all of her friends and family to also try the diet.
"The success of these four individuals is very impressive and shows that the Dukan Diet can be successful for all different types of people no matter what your age or how much weight you have to lose," explains Simone Gloger, Head Nutritionist at Dukan Diet. "If you're ready to change your life, the Dukan Diet can help you lose the weight and keep it off for good."
The Dukan Diet was created by French doctor Pierre Dukan and is broken down into four phases – two to help lose unwanted weight (Attack & Cruise) and two to keep off the weight for good (Consolidation & Stabilization). One key distinction between the Dukan Diet and other diet plans is that Dukan has a plan to help dieters keep the weight off during the Stabilization phase, where dieters return to their regular diet but must continue to eat oat bran daily and return to one day of pure protein per week. Another reason dieters find the Dukan Diet so effective is that dieters are allowed to eat unlimited amounts of pure protein and vegetables found on the 100 approved foods list (68 pure proteins starting on Phase 1, adding 32 vegetables starting on Phase 2), so dieters are never left hungry and feeling deprived.
For more information about the Dukan Diet, please visit http://www.DukanDiet.com and to find more Dukan Diet success stories, visit http://www.DukanDiet.com/success-stories.
About Dukan Diet

The Dukan Method is a high-protein, low-fat, low-carb diet designed for healthy eating and lifelong weight management. Created by Dr. Pierre Dukan, a French medical doctor with over 40 years of experience in clinical nutrition and author of the #1 New York Times bestselling book The Dukan Diet: 2 Steps to Lose the Weight. 2 Steps to Keep It Off Forever, the Dukan Diet program offers unique and personalized weight loss coaching, as well as a variety of food products and all natural supplements at ShopDukanDiet.com. The Dukan Diet book has sold more than eight million copies worldwide. To learn more about the Dukan Diet, please visit http://www.dukandiet.com or find Dukan Diet on Facebook, Twitter or Instagram.
Find More Weight Loss Press Releases