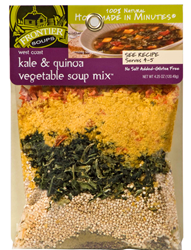 WAUKEGAN, Ill. (PRWEB) June 30, 2014
Frontier Soups™, a producer of all natural gourmet soup mixes, is introducing a You Pick Six Pack of gourmet soup mixes with special pricing.
The new You Pick Six Pack lets consumers select their favorites from among Frontier Soups 34 varieties at just $ 36, a savings of up to $ 6 depending on the soups selected, said Trisha Anderson, company founder. In addition, the new six pack qualifies to ship at no charge because Frontier Soups also is waiving shipping charges during July for orders above $ 35.
Consumers may choose Frontier Soups' newest soup, West Coast Kale and Quinoa Vegetable Soup Mix, which is now available for shipment. The new soup is a vegetarian soup and certified gluten free soup that gives home cooks an easy option for incorporating better-for-you foods, such as nutrient rich ancient grains and kale into their diets, Anderson said. Other vegetarian soup options include black bean soup, white bean chili, and Frontier Soups' best-selling Illinois Prairie Corn Chowder.
In addition to vegetarian soups, the company also offers 28 gluten free options, including classics like chicken noodle soup with corn pasta, tortilla soup and minestrone. Those looking to add more whole grains to their diets, may choose Montana High Plains Wheat Berry Chili, which supplies nearly a day's worth of whole grains per serving and has vegetarian and meaty recipes. Another whole grain soup, Washington State Squash and Lentil, is a healthy vegan lentil soup with red lentils and bulger wheat for whole grain nutrition, Anderson said.
"Our new You Pick Six Pack may sound like a game of chance, but with all of the choices we have, picking six winning, family pleasing soups is a sure thing," she said. "All of our soups are designed to provide easy shortcuts to delicious homemade meals with enough varieties to satisfy any taste whether you are craving a hearty comfort food soup or a chilled soup for a light summer supper."
Frontier Soups is also helping women and children with AIDS in Africa by selling colorful dinner napkins made by HIV-positive women and donating all proceeds to the 501(c)3 nonprofit LifeStitches, which gives HIV positive women a way to earn a living and receive treatment for themselves and their children by sewing beautiful table linens. More information about the LifeStitches napkins and the company's products is available online at FrontierSoups.com, facebook.com/pages/Frontier-Soups/79282421800 and twitter.com/FrontierSoups, or by calling 1-800-300-7687.
About Frontier Soups:

Frontier Soups™ has offered aspiring and accomplished home cooks a shortcut to healthy, homemade meals with 34 soups, stews, chili and chowders inspired by the finest traditions in American regional cuisine since 1986. The gourmet soup mixes, including 28 certified gluten-free soup varieties, are available in such outlets as A Southern Season, Whole Foods, Central Market, The Fresh Market, Safeway, Great Harvest Bread Company and Omaha Steak stores, through national and Canadian distribution and online at http://www.FrontierSoups.com. Frontier Soups is certified as a woman-owned business by the Women's Business Enterprise National Council. The company is located at 895 Northpoint Blvd., Waukegan, IL 60085. More information is available online, by calling 1-800-300-7687 or by connecting on Facebook, facebook.com/pages/Frontier-Soups/79282421800 and Twitter, twitter.com/FrontierSoups.