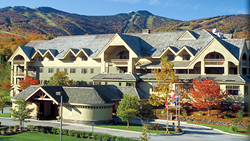 Killington, Vermont (PRWEB) July 09, 2014
New Life Hiking Spa in Killington, Vermont, is one of the oldest and most established destination spas in the country. Founded in 1978, New Life has been set in the Green Mountains for over three decades and is an affordable, all-inclusive option for a wellness or spa vacation.
One of the country's most affordable destination spas, New Life is offering a tremendous value for Labor Day Weekend. The weekend starts with check-in on Friday afternoon, August 29th. It includes three-night's accommodations for two, three healthy spa meals a day, healthy snacks, one massage for each guest, three professionally guided hikes, all fitness activities and evening lectures. The all-inclusive price for two is $ 999.00. Guests check out on Labor Day, September 1, 2014. Guests do not need to leave until 1:30 p.m. on Monday, so breakfast, a guided hike and lunch is included on the day of check-out.
Additional summer and fall foliage discounts are available on many of New Life Hiking Spa's vacation packages and weight loss retreats for the remainder of the season and are listed on their website.
New Life Hiking Spa is currently accepting reservations for the remainder of the 2014 season which runs until September 26, 2013.
About New Life Hiking Spa:
New Life Hiking Spa is a nationally recognized affordable spa for men and women located in the beautiful Green Mountains of Vermont. Known for its exhilarating hiking program, a world renowned weight loss retreat, delicious healthy meals and a comfortable atmosphere, New Life Hiking Spa offers the chance to experience the peace of the outdoors in a down-to-earth, country inn environment. New Life Hiking Spa is open each year from mid-May through the end of September in the Green Mountains of Vermont and welcomes approximately 700 visitors each year from around the globe.
New Life has been consistently picked as one of the top ten spas in the world by SpaFinder Wellness Reader's Choice Awards for hiking, outdoor adventure, solo travel, weight loss, affordability and fitness classes over the past decade. It was also recognized by SpaFinder Wellness as one of the 25 pioneer spas that have shaped the spa industry as it is today and by Health Magazine as a top weight loss spa. New Life Hiking Spa has been listed as New England's top spa by Spas of America each year from 2010 – 2013. New Life has been acknowledged by Frommer's and AARP as one the five top budget friendly and affordable health spas and was recently selected by Greatist.com as one of the top fitness vacations for 2014.
More information can be found online at http://www.newlifehikingspa.com or http://www.WeightLossSpa.com.