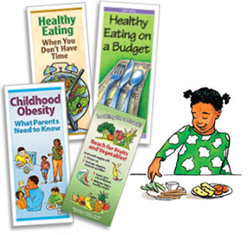 Santa Cruz, CA (PRWEB) October 15, 2014
Studies are increasingly linking late-life health concerns, such as heart disease and diabetes, with the eating habits developed in a person's younger years. Unfortunately, childhood obesity continues to increase at an alarming rate. The cost of high-quality ingredients, and the lack of time for wholesome cooking, are often-cited obstacles to eating right. Journeyworks Publishing announces new materials to help health educators teach families to model healthy eating habits for their children. With a focus on good family nutrition, these new materials are ideal send-home pieces full of actionable tips for making nutritious quick meals within a limited budget.
Journeyworks Publishing, a leading provider of health and wellness education materials, understands the foundation for a lifetime of good eating habits starts at home. Health educators and other professionals are invited to receive review copies of their new and best-selling print materials focused on family nutrition. Planning ahead, cooking in large batches and keeping healthy snacks within eyesight are just a few of the many tips provided in the Journeyworks Family Nutrition sample pack. The complimentary samples include a magnet emphasizing grabbing a smart snack, instead of junk food. A recent study shows the US diet is improving slightly, but we are still falling short in the amount of fruits and vegetables consumed. Keeping a colorful magnet on the fridge or snack cabinet is a helpful reminder to skip the chips and go for a healthy fresh produce alternative.
The complimentary review pack contains three timely and informative pamphlets, plus an eye-catching magnet:

Healthy Eating on a Budget
Healthy Eating When You Don't Have Time
Childhood Obesity: What Parents Need to Know
Reach for Fruits and Vegetables! Magnet
Professionals promoting nutrition can click here to request a complimentary Family Nutrition review pack today.
About Journeyworks Publishing

Journeyworks Publishing is a national health education and health promotion publisher with more than 10,000,000 pamphlets, brochures, booklets, posters, bookmarks, videos, digital pamphlets and other products distributed each year. Used extensively by public health departments, hospitals, schools, VA programs and more, Journeyworks materials are known for being creative, effective, easy to read and accurate. You can learn more by visiting http://www.journeyworks.com.