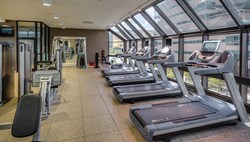 Lexington, KY (PRWEB) October 16, 2013
Keeping up a fitness routine can prove to be a challenge, especially for travelers. Hearing this, the Hilton Downtown Lexington Hotel has completely renovated their fitness facilities! Health conscious travelers on the lookout for attractive new services that make their travel time more enjoyable and productive, can now utilize the fitness and wellness facilities offered by the Hilton Downtown Lexington Hotel.
Regular exercise is an important factor to maintaining a healthy lifestyle. A potential impediment to maintaining a healthy and active lifestyle is the interruption a business trip can create, and is very common among Americans today. It is advisable to maintain ones active lifestyle and exercise regimen while travelling, especially for business.
Now considered a premier Lexington sports facility, new features abound, such as state-of-the-art Precor fitness equipment, a leading home and commercial fitness equipment manufacturer. The new additions will ensure that Downtown Lexington Hilton can provide its guests with state-of-the art fitness equipment, coupled with a unique entertainment solution, ensuring an exceptional health and fitness experience.
Numerous strength stations and weight equipment are available for building and toning muscles and offers horse jockeys or equestrian enthusiasts a way to train outside of the track. Various cardio equipment, including elliptical cross trainers, upright and recumbent bicycles provide a great way to maintain cardiovascular health and stress reduction. A temperature controlled workout space with spectacular views of downtown Lexington offer comfort, inspiration and motivation to maintain the goals travelers may have set out for themselves. If stability, balance and yoga is preferred, or travelers looking to relax and let-go after a grueling business meeting, the new gym facilities also have yoga specific equipment, such as mats and stability balls.
Since hydration is one of the most important factors in health and wellness, the facilities now provide towel and water stations spread throughout to ensure all guests have adequate access to fluids. Disposable ear buds are also available to all hotel guests and many machines have their own personal tvs.
We are proud to offer our guests the best hotel fitness experience in Central Kentucky. The expansion to our facility added a significant number of PreCor workout stations which allows our guests multiple workout options said General Manager, Marty Rothchild.
Director of Sales and Marketing, John Gennuso, adds: This is what our customers asked us for and we are so proud to be able to deliver a new state of the art facility for them.
The fitness facilities have been upgraded from 300 square feet to 1162 square feet and are available to hotel guests exclusively daily from 5am to 11pm. Focusing on fitness doesn't mean that guests have to miss out on fun in the city. Guests of the iconic Hilton brand can now expect much more when they are in Lexington on business or pleasure! Some of the city's biggest attractions are just a short distance away. The hotel is situated among the prominent areas of the Lexington business and dining areas, close to the Bourbon Trail, The Kentucky Horse Park, Lexington Convention Center and many area shops and boutiques. Known as Bluegrass Country and the horse capital of the world, many travelers take in equestrian pursuits, the exciting nightlife and soulful bluegrass scene.
About the Hilton Lexington Downtown Hotel

Located in the heart of beautiful Downtown Lexington, the Hilton Lexington Downtown Hotel is the ideal destination for all vacation and business pursuits and is only 6 miles from the Blue Grass Airport. The world-class hotel is central to scores of exciting Lexington attractions, restaurants, shopping, museums, historic landmarks, performing arts and entertainment venues. To learn more about Lexington Kentucky getaways featuring attractive hotel packages at the Hilton Lexington Downtown, visit http://www.lexingtondowntownhotel.com

Marty Rothchild

General Manager

marty(dot)rothchild(at)hilton(dot)com

Hilton Lexington/Downtown

369 West Vine Street, Lexington, KY 40507

Phone: 859-231-9000

Fax: 859-281-3737