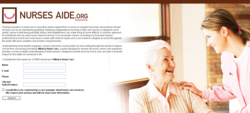 Palo Alto, CA (PRWEB) August 20, 2012
Home Care Assistance, the leading provider of in-home care for seniors, is proud to announce the launch of NursesAide.org. Just one component of the companys impressive suite of educational materials and resources, the site is designed to provide information to individuals keen to learn how nurses and non-medical caregivers can provide the support necessary to enable aging and unwell adults to remain in the comfort of their own homes. Spurred by requests from aging adults and their loved ones across North America for high quality and reputable information around the topics of senior care and healthy aging, the company embarked on an innovative community outreach and educational initiative. From targeted websites to a Healthy Longevity Webinar Series, to an award-winning senior wellness series of books, the company has developed a wide range of resources that have earned it a reputation as the trusted experts in the senior care industry. NursesAide.org aims to provide information to adults who want to assemble a qualified team of care providers, both medical and non-medical, to promote living comfortably and well in the familiarity of home. By completing the brief form on the website, individuals will automatically receive a free, downloadable copy of What Is Home Care, a 19-page guide designed to help seniors and the families navigate the long-term care landscape.
Home Care Assistance is proud to be a leader in community education around the topics of senior care and healthy longevity, said Kathryn Zakskorn, Public Relations and Marketing Manager of Home Care Assistance. It is incredibly important to provide families with the information and resources that they need in order to develop the optimal long-term care plans for loved ones.
Home Care Assistance is considered a trailblazer in the in-home care space with an innovate care model that goes well beyond the types of assistance typically provided; with its proprietary Balanced Care Method training, Home Care Assistance caregivers place an emphasis on promoting lifestyle factors that contribute to healthy longevity, such as healthy diet, sharp minds and active social ties. The boom in life expectancy combined with a strong stated preference among seniors to maintain independence in their own homes, means that home care is becoming a key component of the aging paradigm. Home Care Assistance, unique in its evidence-based approach to long-term care and aging, has continued plans to expand its suite of educational materials and outreach activities not only for clients, but for older adults around the world.
Our mission at Home Care Assistance is to change the way the world ages, said Shadi Gholizadeh, Business Operations Manager of Home Care Assistance. By providing information about the positive impact that in-home care can have on the lives of seniors, we hope to promote the vision that all aging adults can lead dignified, productive and fulfilling lives in almost any state of physical or mental ability when given the proper support and resources.
For more information about Home Care Assistance please visit http://www.homecareassistance.com or call 1-866-454-8346.
ABOUT HOME CARE ASSISTANCE

Home Care Assistance is the leading provider of home care for seniors across the United States and Canada. Our mission is to change the way the world ages. We provide older adults with quality care that enables them to live happier, healthier lives at home. Our services are distinguished by the caliber of our caregivers, the responsiveness of our staff and our expertise in Live-In care. We embrace a positive, balanced approach to aging centered on the evolving needs of older adults. A 2012 Franchise500