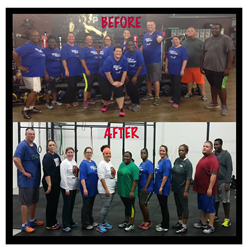 Oklahoma City, Oklahoma (PRWEB) February 02, 2015
Homeland Grocery Stores is excited to announce their second annual Get Healthy Challenge $ 5,000 prize winner. Twenty year old William White of Oklahoma City, OK was awarded $ 5,000 on Saturday January 31st for his weight loss efforts. William lost a total of 83 pounds throughout the fourteen week challenge. Collectively twelve contestants finished the program and lost 363 pounds and 264 inches. The contestants also lowered their total cholesterol by 144 points and increased their HDL (good cholesterol) by 66 points.
The 14 week Homeland Get Healthy Challenge was a comprehensive, long-term commitment to provide customers with the education and resources they need to make sustainable, healthy decisions for both themselves and their families. The 2014 contest united community members as they worked together to reach their health goals during the 14 week challenge. The challenge was sponsored by Kellogg's Special K, the Ambassador Hotel in Oklahoma City, Roughhouse Boxing and Fitness and Title Boxing Club.
The challenge began on October 25th, 2014 with a two day Wellness Camp where the contestants received personalized instruction on cooking, meal planning, fitness and other behaviors needed to begin a healthy lifestyle. During Wellness Camp contestants also received a baseline health screening and education on key biometric numbers so they could track of their improvement.
The twelve contestants met with Homeland's Registered Dietitian, Alyson Fendrick, at their local store to apply their nutritional know-how and purchased healthy foods to restock their pantry. They also participated in weekly group workouts at Title Boxing Club in Edmond and ultimately finished the challenge at Roughhouse Boxing and Fitness. After just two weeks of the challenge the participants had lost a total of 123 pounds and were well on their way to the 363 pound total loss.
"We could not be more pleased with this year's results. Our contestants completely surpassed the health goals we set for them and they continue to exceed our expectations. We are confident they will continue on their healthy journey and be ambassadors for the community," stated Alyson. Winner William White is well on his way to doing just that by inspiring his Mom to lost over 50 pounds during the 14 weeks. "My family, they've been working out more. My Mom was with me every step of the way. We would work out together and it was really cool to have that support system," William noted during his acceptance speech.
Homeland looks forward to offering the third annual Get Healthy Challenge later this year. The two previous years were very successful in providing health and wellness opportunities for the chosen participants through the 'Alyson Approved' program and Homeland plans to continue and expand that support for the greater Oklahoma community throughout the coming year.