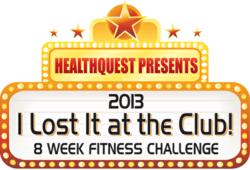 Flemington, NJ (PRWEB) December 29, 2012
Clubs belonging to IHRSA, International Health, Racquet, and Sportsclub Association, share in the associations mission to make the world healthier through regular exercise and fitness promotion. The I Lost it at the Club program is intended to not only promote weight loss, but also a healthy and sustainable lifestyle. The fitness challenge will mark the 6th edition of the program HealthQuest has run, always beginning in January. Those with short-term resolutions and continuing pledges to get in shape and stay fit will have fun with this years Hooray for Hollywood theme.
This club-wide event, offered to members only, is a simple and original way to approach fitness. I Lost It at the Club challenges people not only to weigh-in weekly, but to collect reward points for exercising as well. In addition to the fun Hooray for Hollywood theme, the program encourages members to go outside their comfort zone and try new exercises in order to maximize their rewards. There will be huge prizes for winners of the competition at the end with the grand prize being a trip to Hollywood for two, awarded at a fabulous Red Carpet Party. After the eight-weeks HealthQuest will keep the energy going with a follow-up program called the Maintain Campaign, designed to help and motivate participants to keep the weight off for an additional three months. Those able to keep their weight off will automatically be entered in a drawing to win three free months of membership.
Ted Beck, HealthQuest Fitness Manager said, The staff has put so much effort into making every detail perfect for our members and I believe everyone will enjoy it. We are all very excited for it to kick off. Do something for yourself this year and make the commitment to get healthy with, I Lost it at the Club. There is nothing to lose but weight and poor habits. This incredible program is only $ 35 per member, and comes with a SWAG Bag of goodies and 2 tickets to the Red Carpet Party to conclude the program. Registration is open now, for more information visit the Program Desk or the HealthQuest website at http://www.healthquest-fitness.com.
Find More Lose Weight Press Releases