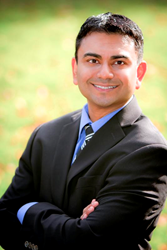 Washington, DC (PRWEB) May 22, 2014
As the weather warms around the country, and summer swimsuit season draws near, many people turn to diet and exercise to get their bodies swimsuit-ready. Sadly, many people go to harsh extremes in order to drop a quick ten pounds, rather than focus on their health. A simple search of the internet shows no shortage of seven-day detox, 24-hour cleanse and drop a dress size in two weeks diets. Unfortunately these are usually unsustainable gimmicks that provide short-term results at best.
Dr. Sanjay Jain writes in his USA Today and New York Times Best Selling book, Optimal Living 360: Smart Decision Making for a Balanced Life, "Commitment is everything. Although it is wise to make gradual and enduring changes to your patterns of diet and exercise rather than drastic moves that won't be sustained, the initial step is simply to resolve to make those changes." So once a person has committed to making true lifestyle changes, not just short-term weight loss goals, to better their overall health and appearance they can try the following tips from his book:
Refuel with water. Roughly 75-percent of the human body is water but in an overweight person that amount might be less than 50-percent. "Water is truly the fountain of youth," Dr. Jain writes. "It boosts the immune system, aids tissue and DNA repair, assists with digestion, prevents heart attacks, provides energy and suppresses appetite." Rather than participate in the great water debate, individuals should drink enough pure, clean water each day so that they don't experience extreme thirst. For most people, this is about 64-100 ounces a day.
Boost health ROI with a colorful plate. Food is information for the body. What a person consumes has a lasting impact on how healthy or unhealthy they become. It's important to look past the initial sticker-price of foods at the grocery store and choose ones that will provide the most nutrients and vitamins overall. Individuals should help themselves to endless amounts of non-starchy vegetables like spinach, kale, bell peppers, onions, carrots, celery, radishes, beets and cucumbers. Additionally, avocados, beans, berries, fish oil, nuts, and oatmeal provide an amazing ROI for both the body and pocketbook.
Don't fear fat. Healthy fats are essential to a healthy body. Not only do they provide an excellent source of energy, which gets used and not stored away in the fat cells, it also leaves the body feeling satiated. Top salads with raw nuts or avocado slices and dressings made from olive or sesame oil; sauté veggies in coconut oil and use it to replace fats in baked goods.
Use Mother Nature's medicine cabinet. In his book, Dr. Jain writes, "Mother Nature has given us some special plants that can be very helpful" when used to properly and with the oversight of a medical professional. Many modern day medicines such as aspirin and morphine come from plants, and entire stores are now devoted to herbal supplements and remedies. Dr. Jain suggests the liberal use of fresh herbs and spices, like garlic, ginger and cinnamon, in cooking. As for supplements, choose a high-quality supplement under the doctor's supervision.
About Dr. Sanjay Jain:

Sanjay Jain, M.D. MBA is a New York Times and USA Today Best Selling author, accomplished medical doctor, health expert, life coach and inspirational keynote speaker who has dedicated his life to helping people find their purpose by achieving a meaningful life that they deeply cherish.
Sanjay Jain is U.S. trained and a board certified physician with over 15 years of clinical experience. He holds certifications in Diagnostic Radiology, Integrative Medicine, and Healthcare Quality and Management. He is a graduate from the accelerated BS/MD program at The Northeast Ohio Medical University. He has diversified experience in the private practice, academic, and integrated multispecialty settings.
He was a former assistant professor at The Ohio State University where he also obtained his MBA at the Fisher School of Business. The combination of which has given him a unique voice and understanding of the many issues we face today in a real and practical sense.
Follow Sanjay on Twitter at @sanjayjainmd. His new book, Optimal Living 360: Smart Decision Making for a Balanced Life(Greenleaf) is available in stores now!