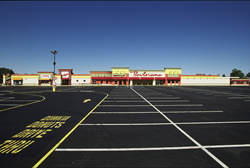 New Castle, DE (PRWEB) August 05, 2014
Looking for something new this fall? Bowlerama has it all! Bowlerama is a 62 lane center complete with Kegler's Pub, Spare Rib Restuarant, Dunkin Donuts and KidZone Arcade. Bowlerama offers league bowling, recreational bowling and an arcade for the kids.
Bowlerama is fully handicap accessible. They proudly host many special needs groups including, Special Olympics, Blind Bowlers, Mancus, Autism Groups, Mary Campbell Center, Chimes, Easter Seals and CI Communications.
The first new league Bowlerama will be offering is the Monday Mixed Bowling and Banquet League. At the end of the league season, participants will attend a banquet. This league is reminiscent of the leagues of old, when bowling was about time with friends, family and co-workers for fun and a little competition. This is great for novice bowlers that may or may not bowl well enough to win a prize. Everyone attends the banquet. This league is for good times and socializing. This league starts September 8, 2014 and will hold their meeting at 6pm August 11, 2014 at Bowlerama.
Another Monday league that has been added is the Monday Mixed Baker League. First place for this league is $ 3500 based on 10 teams. The teams consist of 5 bowlers in any combination. Bowlers will bowl the Baker format which consists of bowling 2 frames per game. Team handicap is 90% of 220. This league also starts September 8, 2014 at 6:30pm with their meeting being held the same night at 6pm.
Tuesday night will host a new Tuesday Men's League. This league has a $ 1500 sponsor by Stongbow Hard Apple Ciders. Teams consist of 5 men. This league comes with many perks such as $ 1 post league pot bowling on Tuesday nights. This league starts September 2, 2014. The meeting will be held August 19, 2014 at 7pm to determine rules, pricing, handicap and league start time.
Sunday will host an all new Sunday Mixed league. This is a regular format mixed league. They will meet at 6pm on August 17, 2014 and start bowling September 7, 2014 at 6:30pm.
Sunday mornings are home to the all new Sunday Duos, an adult child league. What a great way to spend quality time with your child, niece, nephew or other child. There will be a pizza party at the end of the bowling season. This league meets September 14, 2014 at 10:30am and starts September 21, 2014 at 10am.
Lastly, Wednesday will host a new Senior League. This is a great opportunity for members of the senior community to come out, socialize, make new friends and get some exercise all at the same time! This league will meet September 3, 2014 and start bowling the same day.
All leagues enjoy $ 2.39 practice games anytime and $ 0.99 practice games on Wednesday nights and a prize fund bonus of 10% of all food purchases during the season are returned to the prize fund. Pot of Gold starts at $ 1526 and requires a $ 2 entry fee.
Bowlerama has a league that is right for everyone. Look at our yellow league schedule for details or visit our website and click the league tab. Click here to join a league. Questions can be directed to Barbara Cochran.