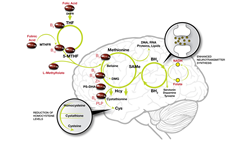 (PRWEB) July 13, 2014
If you suffer from chronic pain, depression, anxiety, digestive disorders, infertility, or pregnancy complications, you probably have elevated homocysteine, or hyperhomocysteinemia.
What is homocysteine? Homocysteine is an amino acid in the blood that our body converts to SAMe and Glutathione, both which help us stay physically and neurologically healthy and regulate mood.
Homocysteine is a reliable objective marker of overall health, and high homocysteine is extremely common, and is a risk factor for a multitude of chronic and serious health conditions, including heart attack, stroke, cancer, diabetes, thyroid problems, and neurological conditions such as Alzheimer's and Parkinson's Disease. High levels of homocysteine have also been associated with cognitive impairment, autistic spectrum disorders, and PTSD, "homocysteine levels have predicted duration of PTSD (Levine 2008), suggesting that lowering homocysteine levels through supplementation with B-vitamins might reduce symptoms of mood disorders by freeing up metabolic resources involved in neurotransmission," according to http://www.lef.org.
Until the recent launch of EnLyte advanced generation folate therapy, there has not been one patented, FDA regulated agent with the perfect combination of ingredients proven to lower harmful homocysteine levels. Lowering homocysteine relies on a delicate balance of B vitamins, cofactors, and minerals: folates, B2, B6, B12, Zinc, Magnesium, Cobalamin, and Trimethylglycine (TMG) or Betaine. EnLyte with Delta Folate has a National Drug Code (NDC), and is the patented, once-a-day answer to this serious health issue: it contains 3 forms of folate: L-methylfolate magnesium, folinic acid, and folic acid, plus critical cofactors: B1, B2, B3, B6, and B12, as well as zinc, magnesium, TMG/Betaine, and cobalamin. The ingredients in this new, natural option are metabolized, brain-ready, and designed to bypass common genetic mutations, such as MTHFR-making it the clear choice over other OTC or rx choices.
Extensive research went into the creation of EnLyte, a natural solution, to meet this important need:

EnLyte is safe to use in pregnant and lactating women and folate/EnLyte is effective in the treatment of hyperhomocysteinemia and may reduce the risk of neural tube defects; elevated homocysteine levels have been observed in women giving birth to infants with NTD's. Folinic acid and cobalamin play an essential roles in converting homocysteine to methionine. Specifically, cobalamin is essential in maintaining mood, possibly explaining why cobalamin deficiency is sometimes associated with depression. Many factors contribute to the cobalamin deficiency including diet, gastrointestinal pathology, autoimmune disease and medications. Betaine, or trimethylglycine, has also been shown to lower plasma homocysteine.
According to Andrew Farah, MD, Chief of Psychiatry, UNC/HPRHS: "EnLyte is that combination of all the cofactors you need, engineered to maximize the homocysteine cycle." Click here to watch Dr. Farah's short video on homocysteine and learn more about EnLyte.
About EnLyte

EnLyte is manufactured and marketed by JayMac Pharmaceuticals, LLC, a company gaining attention in the psychiatric and psychotropic market and dedicated to education on the impact of high homocysteine.
Find More Dieting Press Releases