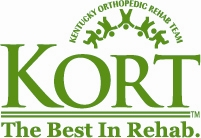 Louisville, Kentucky (PRWEB) February 18, 2015
By now, many of us have already failed in our New Year's resolution to lose weight. With obesity in both adults and children at epidemic proportions in the United States, it's no wonder Americans will spend millions to shed those unwanted pounds. Unfortunately, many of the powders, pills and programs will fail and folks will see their wallets shrink while their waistlines grow.
Hundreds Lose on POWR

Last year, 309 Kentuckians found success on the KORT Personalized Orthopedic Weight Reduction (POWR) program losing a total of 2,100 pounds.
"It's so amazing to see the change not only physically, but in a patient's attitude when they see success in the program. So many of them have tried other weight loss programs and failed. They blamed themselves when it was really the program," said Dr. Emily Green, PT, DPT, OCS program director of the KORT POWR Program. "I feel like we are making a major impact and changing people's lives. Patients improve their overall health and reduce their risk for a wide variety of diseases including type-2 diabetes, high blood pressure, heart disease, and cancer. Plus, they improve the quality of their lives. Losing weight along with physical therapy also helps to minimize their knee pain and low back pain. Carrying around those extra pounds keeps you from living your best, most active life and preventing you from doing the things you love."
Not a Diet

In a study by Boston Medical Center researchers found that nearly 45 million Americans diet each year and spend more than $ 33 billion on weight-loss products in their pursuit of a better body. While a fitter figure is desired for optimal health, how one goes about it is just as important as the end result.
KORT developed the POWR program as a healthy and effective way to lose weight while improving overall health and fitness. Unlike a diet, this medically-based program helps people achieve and maintain their healthiest weight through a customized dietary and fitness program monitored by a trained physical therapist.
Why POWR Works

"The POWR program does not just focus on reducing caloric intake, it is also about educating patients on how to make better food choices and giving them the tools to change their eating habits for life. Many popular weight loss programs let dieters eat whatever they want in smaller portions, but when they've reached their goal and stop the program they regain the weight because their eating behavior hasn't changed," said Dr. Green.
Patients in the POWR program are encouraged to exercise at home and track their food choices and activity level, said Green. "Both exercise and weight losses are carefully monitored with metrics to ensure a healthy weight loss. Additionally, patients are being educated along the way so they can make permanent lifestyle changes to reach and maintain their long term weight loss goals," said Green.
KORT POWR Program Helps Participants:

•Reach a healthy body weight & BMI

•Decrease risk for diseases

•Improve function & reduce pain

•Increase energy levels

•Increase strength and stamina for sports & activities

•Improve self-esteem and quality of life
KORT Locations Offering the POWR Program

Louisville:     

English Station

J-Town

Partners in Physical Therapy (St. Matthews)

Preston Highway

Valley Station    

Jeffersonville, IN

Brandenburg

Bardstown

Campbellsville

Elizabethtown

Frankfort

Lebanon
The program is covered by most insurance plans, especially if being overweight or obese is leading to a medical condition such as joint pain or back pain. Your physician can refer you to this program if you have a primary orthopedic condition and an associated diagnosis of overweight/obesity. For more information about the KORT POWR program, visit http://www.kort.com or call 502-933-1777 for an appointment.
Kentucky Orthopedic Rehab Team (KORT) has been specializing in outpatient physical and occupational therapy in Kentucky and Southern Indiana for over 25 years. Local management empowers KORT clinic directors and clinicians to work one-on-one with patients to regain strength, increase flexibility, improve mobility, and reduce pain without drugs or surgery. Selected as a "Best Places to Work in Kentucky" for 11 consecutive years, and with over 40 locations, KORT has the most board certified Orthopedic Specialists and Vestibular Rehabilitation specialists than any other provider in the region. KORT's certified athletic trainers provide sports medicine services to more than 30 high schools and colleges in Kentucky & Southern Indiana.